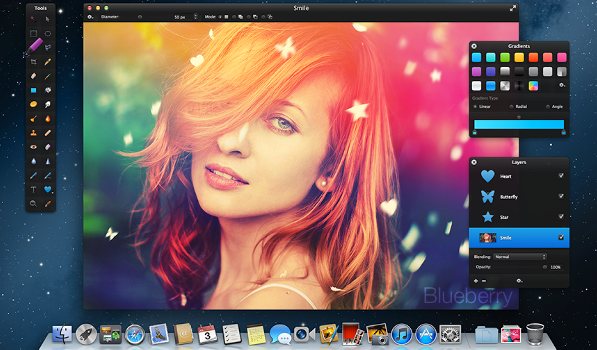 The number of Mac apps that get showcased here on Beautiful Pixels is very low compared to all the iPhone, iPad and (now) Android apps that we write about here every day. Ever since the launch of the iOS App Store in 2008, we have seen some remarkable apps come out for Apple's mobile platform and they have only continued to get better with every passing year. Yet, there are a few Mac developers who continue to churn out beautiful & powerful Mac apps for the masses. Once such Mac app that has been consistently blowing our minds with each release, has been Pixelmator.
Today, the Pixelmator Team released version 2.2 of the powerful image-editing app for Mac, codenamed Blueberry. With this release, Pixelmator brings over 100 new features & improvements to the platform, including some very notable features that the audience had been waiting for. One of the most awaited features has been the Shapes tools — Smart Shapes, Shapes Palette that includes some readymade shapes & Shape Style pallette that allows you to create more polished and advanced shapes. Blueberry also now lets you convert your Text into Shape, so you can edit the text as you wish. Other interesting features bundled with this release include the Paint Selection Tool, which enables you to select an area based on the same color & the Light Leak effect tool, useful for photographers to spice up & create stunning photos.
Pixelmator continues to boast of a super polished UI that is very fluid and fast to work with. It makes use of some advanced features of Mac OS X and has long been considered to be a better replacement for Adobe Photoshop by many Mac users. Pixelmator 2.2 is now available on the Mac App Store for just $14.99 and is Free for existing users. A trial is available too.
Here's a quick video that demoes the Convert Text to Shape feature.