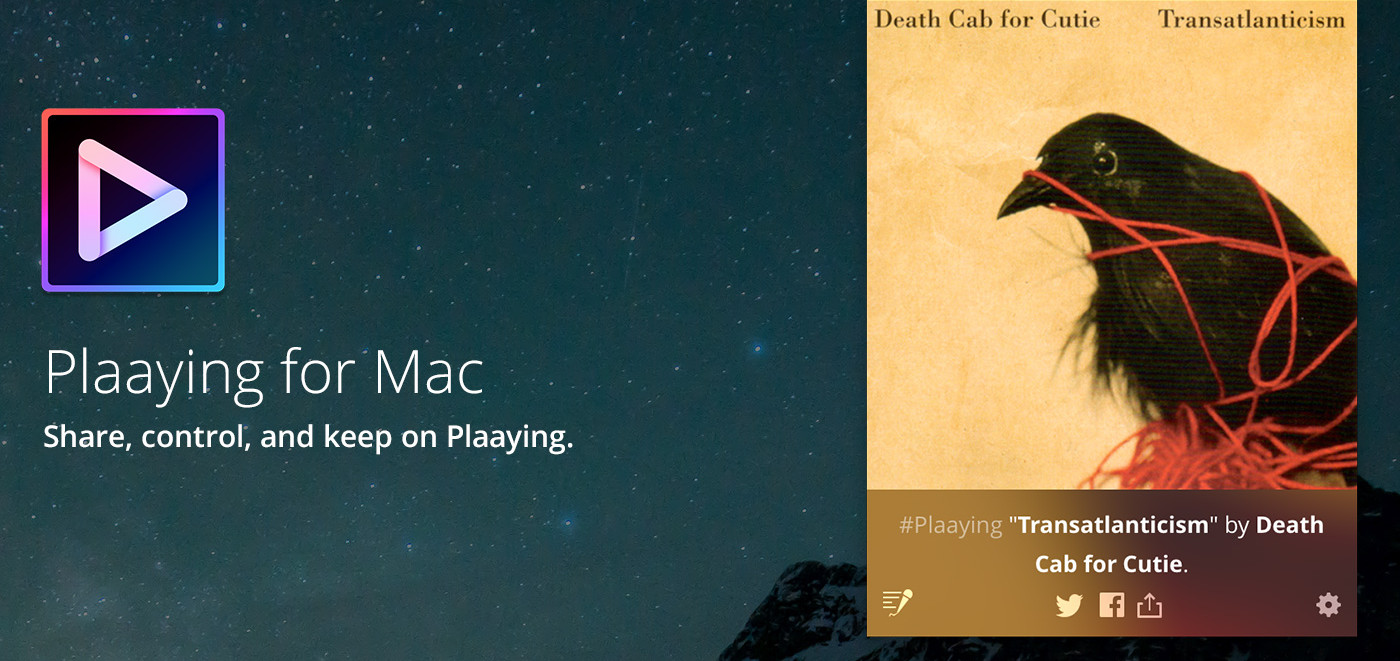 Plaaying is an interesting menubar companion app for Mac that helps you take control of the way you listen to music from various sources, and also share what you're listening to with your friends and followers. Crafted collectively by KaL Michael and Sam Gray, Plaaying for Mac aims to "remove the friction […] so you can work and play".
Plaaying sits comfortable in your menubar and works with iTunes, Rdio or Spotify. Whatever you're listening to, the app will display the album artwork and controls in the menubar. You can also use the app's keyboard shortcuts to control your music. You get to choose between two different layouts for the view — one with a bigger artwork and the controls and HUD overlaid on it and another with the artwork floating on the left and the HUD on the right. You can quickly share the current song to Twitter or Facebook using the icons at the bottom. The app allows you to automatically share everything you listen to on Twitter, but please don't do that. Seriously. You can also share the first song of the day or once every hour if you want. The app smartly shares high resolution artworks, thanks to a custom "Artwork Engine™"
Plaaying shares big, beautiful artwork. We don't share just the tiny album art these music players offer. We did an irrational amount of backend work to build an Artwork Engine™, a system that automatically seeks out the biggest and best images to make sharing your music, movies, and tv shows shine.
A nifty feature in Plaaying, called Intermission, automatically resumes your music after a certain time period that you can configure in the app's preferences. The app automatically pauses your music when you get a FaceTime or Skype call and resumes once you hang up. If you're worried about your music suddenly blaring through your speakers, Plaaying plays a simple chime 10 seconds before your music starts playing again.
There are a lot of configurable settings in the app's preferences, so you can mould the app according to your liking. It's a little rough around the edges in some areas, like alignment of icons for example, but it's still a pretty solid companion app to have. If you love listening to music while you work, you should definitely give it a try. You can grab Plaaying from the App Store for $3.99.