if (screen && screen.width < 767) {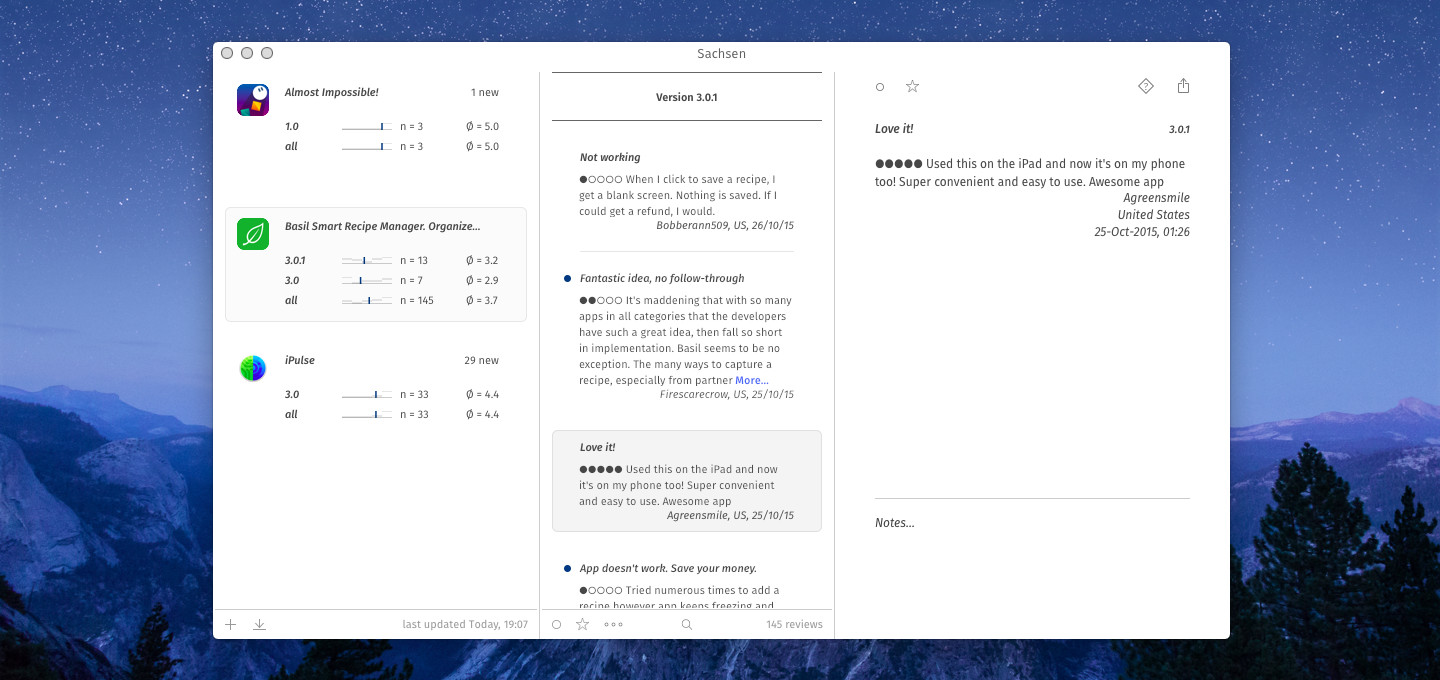 Sachsen is a Beautiful Reading App for App Store Reviews
---
Sachsen is a simple Mac app that allows you to subscribe to and read the user reviews for any iOS or Mac app. Designed and developed by Christoph Lauterbach, Sachsen looks elegant and minimal, and is a great way for app developers to keep track of the user reviews on the App Store or Mac App Store.
Sachsen is a standalone app, so there's no recurring service that you have to subscribe to. It fetches the user reviews through Apple's own RSS feeds and has the ability to download new reviews on launch or even in the background automatically. You can keep track of multiple apps in Sachsen, and the interface is quite similar to the Mail.app, with your list of apps in the left most pane, the center pane for list of reviews and the right-most pane displays the text of the reviews. In the left pane, Sachsen displays the name of the app as well as information like total reviews and average rating for each version. This makes it easy to keep track of how your current version of the app is doing compared to the last version.
At the bottom of the center pane is an option to filter your results. You can view only the unread or favorite reviews or filter them by rating or version number. There's also a nifty search field that lets you filter out that exact keyword. If you come across a review that is in a language you don't understand, Sachsen allows you to automatically translate it into your language of choice.
Sachsen is a fantastic tool not only for app developers, but also regular users who are interested in the iOS or Mac app ecosystem, as they can easily keep track of how an app is doing. Because Sachsen works off RSS feeds, there's no iTunes connect login requirement.
Sachsen is available for purchase directly from the website for $20. You can download a two-week Free Trial of the app, with the only exception being that automatic translations won't work.