For as long as I can remember, every time someone asked me the question, "Hey! Do you know a good FTP app for Mac?" my standard response to that has been to point them to Panic's Transmit app. Panic has been making really good apps for consumers for almost two decades now, and I've personally been witness to their astounding ability to ship incredible & pixel-perfect apps for about a decade. The company is known for their popular apps like Transmit, Coda, Prompt and of course, Firewatch the game. Their apps have made it to our Editor's Choice Awards of 2012 and 2014. Today, the company has released Transmit 5 — a major release to their immensely popular file transfer app for Mac.
Transmit 4 was released back in 2010, so today's release comes almost 7 years after the last major update. Transmit 5 is packed with a whole lot of goodness, features and improvements. Here's a glimpse at what's new:
10 New Cloud Services
Transmit 5 can now connect to 10 new cloud services along with the classic protocols like FTP, SFTP and WebDAV. The new cloud destinations that work with Transmit 5 include Backblaze B2, Google Drive, DreamHost's DreamObjects, Dropbox, Microsoft Azure, Rackspace Cloud Files, Amazon Drive, OneDrive, Box, as well as Amazon S3, which it has supported for a while now.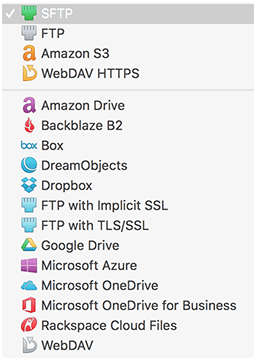 Panic Sync
Transmit 5 also includes the Panic Sync feature — the company's own fast and secure implementation of a sync engine that allows you to keep your server bookmarks in sync across devices. Panic Sync is also available in Coda, and works amazingly well.
Vastly Improved Speed
Transmit 5 is ridiculously fast at handling file transfers. Along with a beautiful UI, Transmit 5 excels at transferring your files incredibly fast to and from the servers you're connected to. In my testing, Transmit 5 showed a massive improvement over Cyberduck and other FTP apps, especially when transferring a folder with a bunch of files in it.
Transmit 5 also ships with a host of other improvements to the UI, along with other features like the ability to Batch Rename files, the ability to generate secure keys within the app, support for 2-Factor logins, etc.

Overall, Transmit 5 is a massive improvement to an already stellar app. It is now available on sale for a limited time at just $35. The price will increase to $45 starting next week.
Check out the really cool rotating Transmit-branded truck on the Transmit website].