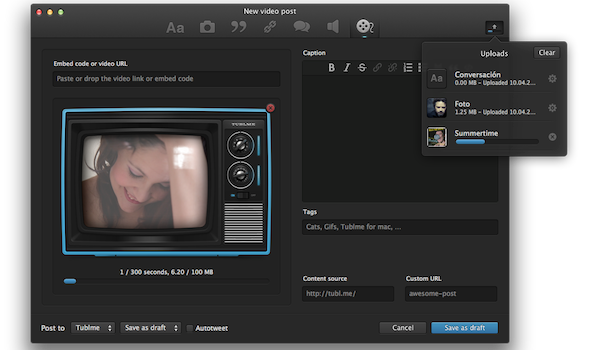 Tublme — A Tumblr App for Mac
---
Tublme is a new Tumblr Desktop Client available for Mac that was released a few days ago. It boasts a powerful feature-set and comes packaged in a gorgeous, Retina-ready UI. While there have been other native desktop apps available for Mac that use the Tumblr API, none of them come close to Tublme's features or finesse.
Tublme's most striking feature is its UI. The app sports a dark & bold interface that is already optimized for the Retina Displays. It makes use of some nice glyphs for buttons and overall, it looks great running on your Desktop. The content from the blogs you follow show up right inside Tublme & it makes it super easy to Like or Reblog each post. If you spend a lot of time following the content from a lot of blogs, or if you love browsing around and exploring new content on Tumblr's vast network of blogs, Tublme has two important features that you'll especially like. Just like on Twitter, you can create Lists and add the blogs you want to follow to these lists. You can also have saved searches, so you're never away from that hashtag you like.
Of course, a Tumblr app for Mac would mean nothing if it didn't have powerful posting abilities & Tublme does an incredible job of handling the content that you want to post. It supports all of Tumblr's post types and lets you compose in plain text, HTML or even Markdown. Tublme also supports multiple accounts, so if you're the adventurous kind, this has you covered. You can upload multiple files simultaneously, so creating posts is super quick with Tublme. Notification Center support? Check. Offline Support? Check.
Tublme really ships with an extensive feature set for what is just a 1.0 release and is available for just $9.99 on the Mac App Store.