if (screen && screen.width < 767) {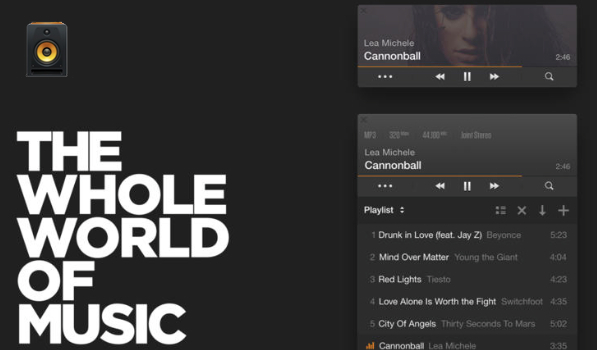 Vox 2 – The Definitive Music Player for Mac
---
Ever heard the term 'Less is More'? Of course you have. I do wonder, though, if the folks who designed iTunes have. Even on a top of the line Mac or PC, iTunes is a bloated, barely functional mess, whose raison d'être seems to be the prevalence of iOS devices. If that seems harsh, I encourage you to try to maintain a 15,899 song library on iTunes without at least one moment of hair-tearing frustration per day.
With that out of the way, I'd like to talk to you about Vox, a music player for the Mac. Vox feels like something Sir Jony Ive would want us to use on OS X. Vox is a solid, powerful music playing engine, with a light and delightfully simple front-end. It supports all the formats that iTunes does and more formats like FLAC. Feature-wise, it has everything you'd want from a music player – Playlist support, an equaliser with built-in presets, AirPlay, a built-in internet radio (available via an in-app purchase), a plethora of preferences for tweaking output and playback, etc.
Your playlist is presented in a drawer-like drop down interface that opens up when you press the 'ellipses' button. You can set up a custom playlist, or you can change to your iTunes library. Either way, your songs are presented in a no-nonsense format, allowing you to pick your favourite tune quickly. Once you do start playing a song, you can collapse the playlist view, and use the mini-player. I love the way Coppertino implemented album art – when a song with artwork plays, the picture pans up and down in the background of the mini player. It really is quite tastefully done, allowing you to view your album art in (almost) all its glory, while still maintaining the svelte look of the app.
Because of sandboxing constraints (it is a Mac App Store app), you need to download an extension to enable you to control the app with your keyboard media keys. The download is well worth it, because it also allows you to use your headphones' in-line remote to control the app. You can also set the app to appear in your menubar, complete with playback controls. I love how Vox is designed to do everything you need, while still staying out of your way.
Let's be clear – Vox is a music player, and a music player alone. You can't buy songs from within the app, so you'll still have to do that via iTunes. What you can do, however, is enjoy music playback from an app with a crisp, clear, simple and easy to understand interfce. Considering it's feature set and design, it is astonishing that the app is available for free. I can't recommend it highly enough. Vox is available on the Mac App Store for free.