Hey there! Feeling hungry, are we? Fret not, for this week's Platter has been served. The banner for this week was created using a photo that I took a couple of days ago and the text was added using Over, an app that we recently wrote about. We also have another round of delicious pixels served for you, so take a bite and let us know how we've done.
[showcase id="7061″]
Reduce is a fantastic app by Tobias Wiedenmann that makes it super easy to batch resize images and photos. Available as a Universal app for both the iPhone and iPad, Reduce provides you with easy to use preferences to set the dimension and/or file size limit for your photos. You can then process the images, making it easier to upload them to the web or share it with someone. The app is especially useful for people who take a lot of photos with their DSLRs and use the Camera Connection Kit to transfer them to their device. You even have the option to remove EXIF data, add a border or even add a watermark to your photos. But th thing I like most about Reduce is the impeccable amount of polish it has to the UI. It feels super slick and absolutely stunning. Tobias has done a remarkable job with it and you should definitely check it out, it's $1.99 on the App Store.
The Chrome Experiments projects are always so much fun. They serve as great examples of what's achievable in a modern web browser today and also push the boundaries of what a developer can do. We have already featured Super Sync Sports earlier this month and we loved playing with it. Maze is another super-awesome game from Chrome Experiments from the Google Chrome Japan team. Built using modern web-technologies and playable right in your browser, Maze transforms your favorite website into a 3D maze through which you navigate a ball using your smartphone while collecting points on a way. It's addictive and a lot of fun. Here's a video that shows a preview:
ikonic is an icon set designed by Rakesh. It is a set of 150 icons that are designed specifically for iOS. Every icon is consistent, complies with Apple's HIG and looks great. They are available as PNG and PSDs in 100% shape layers. You can download a pack of 25 icons for free, PNG or PSD is $5 each or you can simply download the PSD+PNG bundle for $9. Rakesh has also put together this brilliant Gesture Manifesto.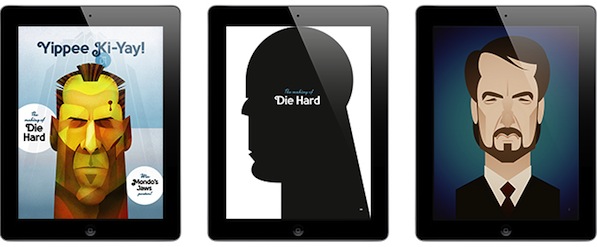 Yippee Ki-Yay! is a movie-focused magazine specially designed for the iPad. The first issue that's available on the App Store contains some beautiful illustrations for various stories and includes movie reviews, a special feature about the making of Die-Hard and a special preview of which movies are coming in 2013. It's a great iPad magazine and is Free on the App Store.
[showcase id="7072″]
When Chameleon launched, we loved the looks and the concept but weren't too happy with the performance and bugs. Chameleon Launcher was also only available for Android tablets at the time. Chameleon is now at Version 2 and it brings so much more to the table. It now supports phones and has undergone a visual overhaul with its own elegant widgets. The launcher also includes more wallpapers and it is hard to make your Android device look bad with this launcher. It still remains the most beautiful Android launcher and has an interesting implementation to folders. Chameleon Launcher 2 is available for phones only for $2.99 and for both tablets and phones for $3.99.
[showcase id="7070″]
Eye in Sky (previously Weather Eye) remains the best looking Android weather app. Its beauty has been in the icon sets available and customizable widgets. It just got updated to fully support 7 inch tablets and also support Android 4.2 lock screen widgets. If that wasn't enough, the app also has an extension for the wonderful Dash Clock that is something every user should install on an Android 4.2 device. The app is still available free with ads and there is a pro key that removes the ads and supports development.
[showcase id="7110″]
Ni No Kuni : Wrath of the White Witch is a role playing game for the PlayStation 3 and Nintendo DS (Japan only). It has been heavily praised for being the best RPG in a long time. Johnny Slagle who is a huge fan of the game decided to create a companion app for the familiars in the game. The app has been designed wonderfully and acts as an encyclopedia for familiars. Familiars can be sorted in multiple ways and you can add tamed familiars to a separate section for quick access. The app should be an official companion to the game because it is that good. Everything from lists of items to graphs within the app looks amazing. Ni No Kuni: Familir Guide with its lovely icon is available on the App Store for $0.99 and is a must if you plan on playing the game or are in the middle of the game.