if (screen && screen.width < 767) {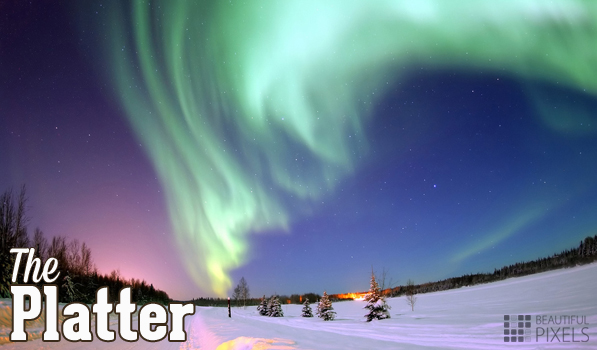 The Platter 4 — Going Forth
---
It's Sunday again, which only means one thing around these parts of the pixelverse. It's time to serve you another delicious Platter of assorted pixels. Here's what we have in store for you today.
[showcase id="6609″]
Conditions is a new simple, minimalistic take on Weather apps by Jake Marsh, and Jake gets many things right with this one. Conditions sports a very barebones and clean UI that shows you today's temperature and condition with a neat Climacon. Tapping once reveals the five-day forecast at the bottom. Depending on what time of the day it is, Conditions will show you the light or dark theme. It has a gorgeous implementation of Pull-to-Refresh wherein the mercury in a thermometer rises as you pull down. However, its minimalistic approach isn't limited to its UI. Conditions leaves out much of the features that one would normally expect in a weather app. Conditions still manages to be a simple, perfect little app if you're just interested in glancing at quickly the weather. It "does one thing well" and at $0.99 on the App Store, it's a damn good alternative for you.
Sunrise is a gorgeous Calendar app from the folks who did Sunrise — the daily email digest. Both these products have a very elegant, suave UI and a spectacular polish to it. Sunrise, the iPhone app is a lovely calendar app that integrates with Facebook, Google Calendar and LinkedIn and integrates events from all these into a single timeline. It has a continuous Calendar view at the top (much like Things app) neatly lays down each even below it, along with the weather forecasts for the day. You can add events via Sunrise and it even has Natural Language Parsing if you long-press the "+" button. With its Facebook integration, it lets you post something directly on someone's timeline or send him a text message. New invitations, if any, show up on the Sun icon at the top. To use Sunrise, however, you have to use Facebook to login, although the devs say they're working on an alternate Login. I'd also like to see iCloud calendars integrated into the app. Sunrise is Free on the App Store and while you're at it, you should also check out their email digest service. Here's a lovely promo video for the app.
[showcase id="6617″]
Amount is a super-simply unit convertor app for iPhone. Although it is named 'Amount', it does all kinds of unit conversions. You just enter the number you want to convert from, select the category (Angles, Area, Currency, Length, etc.) and it presents a long list of units. Just tap the one you want to convert from and your answers are already ready for you. To copy, long press on a cell. Amount is currently Free on the App Store.
h/t Olli Wiegner
[showcase id="6614″]
I've had Cleu installed on my phone for a few weeks now, but I wasn't sure if it was a good idea to write about it. You see, Cleu is a nice Clock, Alarm, Weather app combo for iPhone that works exceptionally well. The app pulls some lovely backgrounds with the clock displayed at the top and the current weather info at the botton. To set an alarm, you swipe up and add multiple alarms if you want. There are custom sounds included in the app and it has a neat little "trace the shape" technique to turn off an alarm. But there's one thing about it that puts me off about the app — it has a terrible icon that feels like its from 2008. Cleu Alarm is $0.99 on the App Store.
Update: The dev just showed us a preview of the new icon for the app that's arriving with an update that's currently in review with Apple. It's a much better icon than the current one and we're glad they've changed it.
Dillinger is an online/web-based & cloud-enabled Markdown editor. Designed & Developed by Joe McCann, Dillinger offers a split-view of the actual text-editor and a preview next to it, which updates in real-time. It lets you connect your Dropbox and Github accounts so you can store/import content. It also offers twenty-five different themes for you to choose from, my favorite being the Solarized Light from the lot. Once you're done editing the text, you can Export as Markdown file or as an HTML file. There's also a preference to Toglle the ruled paper background for the preview. Go ahead, check it out.
[showcase id="6623″]
Localscope has been one of our favorite location-based apps on the App Store. We've written about it in the past, but it has since gone through a lot of iterations & updates, most importantly that it is now a Free app to begin with. Its most recent update brought Zomato integration (paid) and made Google+ Local places a free service. It also supports The Transit App and others for naviation. Localscope has a stunning UI and works great with different services. It is Free on the App Store, so there's no reason why you shouldn't download it if you haven't already.
Tim Green, a designer based in London has put together these neat pixels for a concept design for a Google Talk app for iOS. He says this was "the result of half a week of evenings feverishly hunched over Photoshop by moonlight" and we have to say, it has really come out well. It sports the same clean look that Google sports on their UIs these days with the same color scheme. I definitely would like to see this as an actual app.
Koken is a free, self-hosted system designed for photographers, designers and other creative professionals to showcase their work by publishing their own website. It boasts a feature-packed admin backed that lets you maintain your own library and gives you a host of tools to manage your media. It comes with six minimal themes that you can choose from for your site. If you use Adobe Photoshop Lightroom, it even syncs with the app. There's a free, public beta of Koken now available for download.
[showcase id="6642″]
We can't believe it has been 2 years since we featured Thermo here. Thermo is a nice little pocket thermometer by Robocat that was earlier only available on iOS devices and the web. Robocat announced that Thermo was finally available for Android yesterday. We are glad to see more iOS developers porting their great looking apps to Android. Thermo for Android is available on Google Play for free with an ad that can be removed via in app purchase just like the iOS version. It works brilliantly on Android phones but feels a little too small on tablets.
In case you missed the news, Yahoo!, under the leadership of Marissa Mayer, revealed a redesign of their site a few days ago. While much better than the previous version, it still feels a little off. There's a lot of inconsistency and overdone elements on the site. We came across this Reconstruction of the redesign done by the folks at Fresh Tilled Soil. Their version looks so much better, clean and actually usable. And they explain their take on the reconstruction as well. You should check it out.
Of course, if you have any questions about The Platter, let us know.
[Masthead]