if (screen && screen.width < 767) {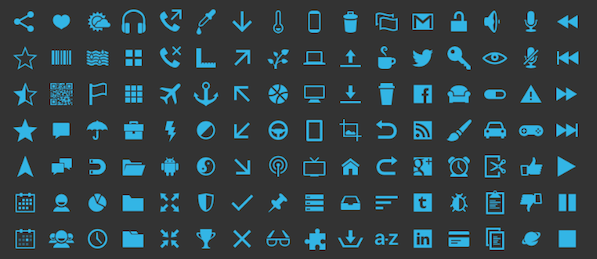 The Platter: Second Serving
---
Another Sunday has dawned upon us, which means it is now time to serve another one of our delicious Platters full of tasty pixels to you folks. We'd like to take a moment to thank all of our readers for their overwhelmingly positive response to last week's Platter, especially the ones who emailed us. We also heard your feedback about the lack of screenshots, so we've included thumbnails that you can click on. We hope we've done better this time.
Unclutter is a new Mac app from the same folks who brought us the amazing Daisy Disk app. It is a tray that opens from the top of your Menubar and contains three little windows called 'Cards' — one for your Files, one for Notes and one that shows your Clipboard contents. The files card acts as a temporary storage for files. Instead of cluttering your Desktop with unnecessary files, you stash your files in there. The Notes card works as you'd expect. It's great to quickly jot down something by simply invoking Unclutter from the top. If you want, you can also drag these individual windows out onto your desktop when you want. Unclutter is just $2.99 on the Mac App Store.
[showcase id="6324″]
Habit List is an elegant iPhone app that's designed to cultivate good habits and break the unhealthy ones. The app lets you add all the tasks you want to perform and set how frequently you want to do them (Daily, every 2 days, etc.). There's also an option to remind you at a set time. Habit List only shows you the tasks that are due today and you can view your progress at the top. To mark a task as completed, simply swipe across it. You can peek into your history to see how you've been doing with your streaks. I kinda also dig the app's icon and the texture it uses on the main UI. Habit List is $1.99 on the App Store and has been a joy to use in my testing.
[showcase id="6330″]
Albums is a lovely app for music lovers to have to have on their iPhone. This smart little app scans your local music library and sets those artists on a watch list. Whenever your favorite artist releases something new on the iTunes Store, Albums will notify you with a Push Notification. You can also add artists that aren't in your local library. There's a 'New Releases' section that will constant source you some fresh content. You can archive an album by pressing and holding down it, so it's available in the 'Archive' section later. Albums also lets you listen to song previews & purchase 'em from within the app. It's got a lovely UI and is very simple to use. It's $1.99 on the App Store (introductory 50% off price) and only supports the US and Canadian iTunes stores for now.
[showcase id="6333″]
Seesaw is a new iPhone app and service that helps you make a decision. The app lets you take photos of anything you need to choose from and then lets your friends vote on them. It's a lot like asking your friends what they think is the best of the lot. Let's say you're looking to purchase a couch for your living room. With Seesaw, you can click photos of up to 4 units that you like and then share these with your friends via IM, SMS, Twitter or even Facebook. You get realtime notifications as your friends are voting so you can track the choices as they progress. The iPhone app has a gorgeous color scheme and works great. Seesaw requires that you sign up with a phone number instead of an email, so it might not work for everyone. The app is Free on the App Store and you should check out the website too.
[showcase id="6345″]
We could go on and on talking about how good word games are getting on iOS so here's another great word game for your iOS device. Spell Rift by Kieffer Bros. isn't your everyday swiping to create words game. It is full of stunning tile graphics and unique tiles with different abilities. Spell Rift is available on the App Store for $1.99 on the iPhone and $4.99 for the iPad.
We'd like to thank our sponsors
Squarespace
for their continued support.
Android is completely open with its file system and most of the recommended file managers make you wish it wasn't. Clean File Manager is the best looking file manager that we have seen on Android. It follows the Android Design Guidelines and is a joy to use. It is also optimized for tablets and looks great on the Nexus 7. It also supports compressed file extraction and has an in app image viewer. Clean File Manager is available for free(ad supported with an in app purchase to remove the ad) on Google Play.
[showcase id="6349″]
What do you do when you see an icon that looks so good and so real? Well in this case, get the tequilla out of course. The detailing here is insane. Nicolas Cabieses has created our favourite icon involving a lime (Yes that's a thing) ever. He did this for the Cevicherias app. It is great discovering stuff like this on iOS Icon Gallery.
[showcase id="6340″]
Evernote has upped their app game recently. We're huge fans of the design direction Evernote is going in. We've seen epic updates to Evernote Food and now Evernote Hello and Penultimate. The latest Evernote Hello update is full of lovely pixels and an all new way to add new contacts to the app. They have a nice video showing you how to make use of their new Hello Connect feature. Evernote Hello is available on the App Store for Free.
Opoloo is a great design studio in Germany. We love what they did with Opoloo Timer on Android and are happy to talk about their Android icon set. The set includes 200 handcrafted icons that follow Android 4.0's guidelines and look awesome. The set has the icons in 14 colours and 4 sizes along with the vector sources. The set is available here with a royalty-free license for just $25.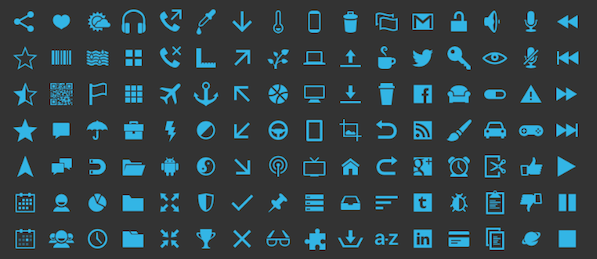 [showcase id="6364″]
Vigil is an iPhone app that allows you to set up remote monitoring for your websites or servers. Unlike services like Pingdom or Server Density, Vigil does everything via the iPhone app itself. You can set up unlimited sites in the app. The app shows you the latency to the website (from their servers) and also allows you to ping your website. If your website throws an error, Vigil will send you a Push Notification with the error and another one when it is back up. I like how the Nav Bar turns red when a website is currently having issues. Vigil costs $0.99 on the App Store and comes with 1 month of Push Notifications. A year long subscription costs $9.99.
As always, we welcome your feedback or any thoughts you may have about The Platter.
[Photo: Dino Ahmad Ali]