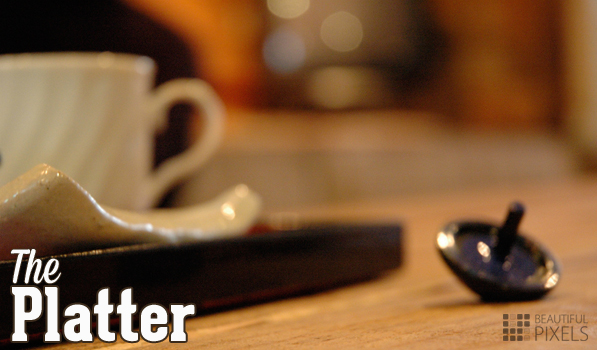 Hey there! You're probably wondering what 'The Platter' is all about, aren't you?
The Platter is our new series of posts that we'll be publishing every Sunday. In writing for Beautiful Pixels, we come across a lot of great apps, tons of examples of beautiful design or exceptional cases of web apps that we would like to share with our readers. The Platter is our way of serving these to you. No one likes reading too much about one thing on a lazy Sunday so we decided to do this.
Every sunday, we'll pick an assorted selection of these interesting links that we'd want to share with you and serve them on a Platter. So here's our very first serving. We hope you enjoy it.
Blue is a weather app that reminded us a lot of Clear with the solid colour band layout. It gives you a 36 hour weather forecast and the overall feel of using the app is very nice. The colour band layout is coded based on the temperature, humidity and sunrise or sunset times for the location in question. The app is universal and it is available on the App Store for $0.99.
Nial Giacomelli is no stranger on Beautiful Pixels. We've featured his work already in the past with Nibbble, Episodes and Lumicon. His newest project, called The Diabetic Journal, is an intelligent diabetic journal application for iOS that tracks your blood glucose levels, meals, activities and medication. A type 1 diabetic, Nial is looking to raise £7,500 via Kickstarter for this iOS app. The app's UI is just what you'd expect from him and he's already raised £2,725 towards his goal with 8 days left. You can check out his project here.
Zenpen is a minimalistic, browser-based writing environment that's very similar to iA Writer. Designed by Tim Holman, it offers a distraction-free writing zone with a few inline styling options — bold, italics and blockquote. There are light and dark themes and it even works in fullscreen. However, Zenpen doesn't allow you to save your text & instead uses URLs.
Aptly titled, Color is a browser-based color matching game crafted by Maria Munuera & Mark MacKay. You score points by moving your mouse so that the color matches the one selected by the game. The closer you get your own color to it, the more points you win. The game is fully Multitouch enabled and there's even an experimental support for Color blind assist. Trust me, it's a lot of fun.
Louie Mantia takes the credit for designing some of the best and most talked about icons in the industry today. He designs some insanely good wallpapers as well. Louie talks about at his approach towards what makes a 'good' app icon and takes a look at some examples from the App Store.
We'd like to thank our sponsors
Squarespace
for their continued support.
The Cafe Traveler Guidebook apps by Matthew Kuhlke are great examples of how to do simple and minimal guides. He has guides for San Francisco and Vienna. The apps have important information about certain cafes in both places. Each cafe has its own gallery as well of stunning photographs taken by Matthew on film from his Leica M3 or M9. These apps aren't your typical guide apps. The photos and text give you a feel of actually being there. The iPad app has some nice photograph animations as well. Both the apps are universal. The San Francisco guide is available for $0.99 and the Vienna Guide is available for $1.99 on the App Store. The detailing in the icons is also a really nice touch.
Prototyping app layouts is very important for any app developer. Live Wires for iPad is a great tool to help you create great prototypes for iPhone or iPad apps. The app is very simple to use. While most wireframing apps just let you create static screens with links, Live Wires has scrollable view controls for screen overflow along with easily customizable native controls. The addition of a huge glyph library is icing on the cake. It is available on the App Store for $9.99.
Cream for Mac isn't your typical Google Reader client. After importing your feeds for the first time, it will start sorting stories with subtle colour coding. It learns what you like as you use it and is a great lightweight app that works in conjunction with a fully functional app like Reeder. It is to be used when you are pressed for time and just want to skim through stories quickly. The app looks amazing and has a lovely cupcake icon. The filtering is pretty amazing and very deep. It can learn that you like posts from a certain author on a site and it will show you more of those on top. Cream is available on the Mac App Store for $3.99.
We featured Launch Center Pro when it released back in june. It is a lovely utility that deserves to be on your dock for 2 reasons. It lets you free up space on your homescreen for other apps and it launches app actions. It also lets you schedule app launches to make your life easier. Drafts is a very powerful notepad app that lets you send text snippets to other apps and it can easily be considered the Launch Center Pro for text. Federico Viticci AKA Mr URL Scheme has a brilliant guide on iOS automation with Drafts and Launch Center Pro. We all know how restrictive iOS is and stuff like this helps power users get stuff done quicker.
Paperman is a new Oscar®-nominated short from director John Kahrs and Walt Disney Animation studios that utilizes a groundbreaking technique that seamlessly merges computer-generated and hand-drawn animation techniques. The short, which is primarily black-and-white, is a wonderful take full of charm and pulls you into the story. It reminds us a lot about the good old days of animation, yet sports a refreshing feel to it. You should definitely watch it.
As always, we welcome your feedback or any thoughts you may have about The Platter.
Header Photo via Lance Shields