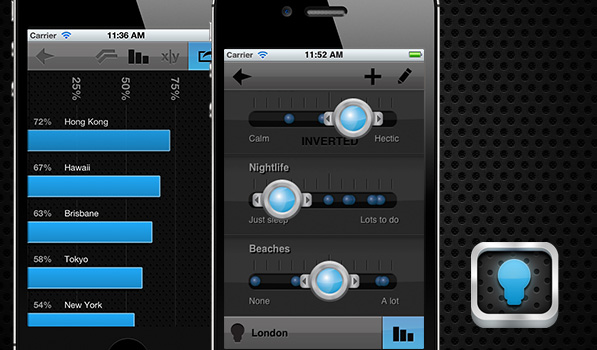 Our thanks to the fine folks at Super Choffee Bros for sponsoring our RSS feed this week for their iOS app Idea Bucket — a beautiful app that lets you rate, compare, and analyze all of your ideas for just about anything. Check out what they have to say and be sure to check the app out on the App Store.
Idea Bucket is an app for finding your best ideas and making better decisions on your iPhone or iPad. The flow is simple, you create a bucket and add your ideas. Then you create criteria and rate them. Once you've rated your ideas you can view reports, make great decisions, and even share results online for free. The completely custom UI is designed to make comparisons between different ideas easy.
You can analyze your results with three different custom reports. Whether you need to make decisions for personal or professional purposes there's no other tool of this caliber, dedicated to this sort of thoughtful analysis on the iPhone or iPad.