if (screen && screen.width < 767) {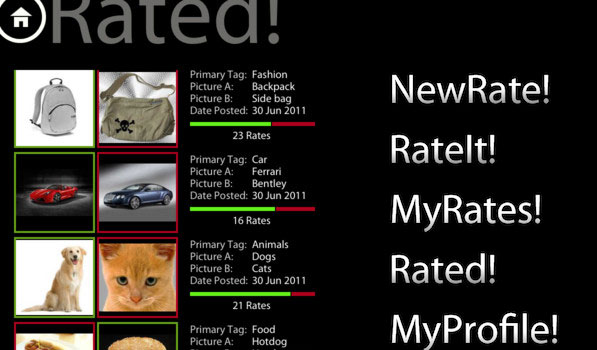 [Sponsor] RateThis! — Easier Decision Making via Crowd-Sourcing
---
Our thanks to RateThis! for sponsoring this week's RSS Feed.
RateThis! is a fun app available on the App Store that lets you rate things by making you choose between two things. You can submit your own "Rate" and upload them through the app and let the power of crowd-sourcing make the decision for you. Can't decide between which couch to buy for your new house? Simply upload photos of both through the app and let the community decide for you. The app displays two photos and lets you select the one you like. Once you're done, it moves onto the next.
RateThis! features a very Windows Phone 7-esque design and UI. There is absolutely no native iPhone UI element in the app, so it's in a way very fun to use.
RateThis! is available FREE on the App Store.