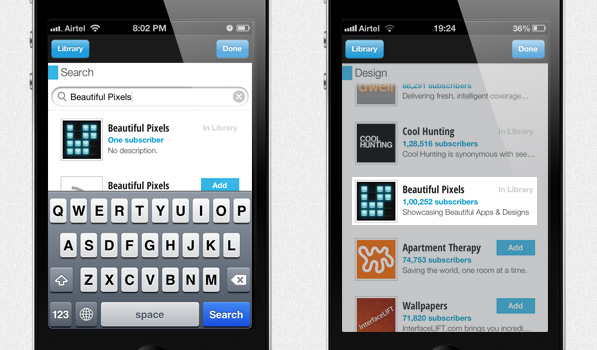 In the image above, on the left is what Beautiful Pixels looked like in Google Currents after I had just flipped the switch and enabled the the feed in the app. It wasn't yet listed in the app and you had to specifically search and subscribe to it. To my delight, a few weeks later, our edition was approved and listed in the 'Design' category in the app. Since then, I've seen a steady rise in our subscriber count, even seeing a quick glimpse of it in the Google I/O keynote where they introduced the Nexus 7 tablet. On the right is the screenshot when the subscriber count crossed 100,000.
That's right, Beautiful Pixels has over hundred thousand subscribers via Google Currents now and I couldn't be happier about this. Our first post was published back in November 2008 and we sure have come a long way since then. We've gone through 2 major design iterations of this website, we introduced sponsorships and were recently accepted onto the Fusion Ad Network. We're not a big media company backed by a corporate team of executives taking strategic decisions for us. We're a tiny team, currently just Preshit Deorukhkar (me) running the site with Mikhail Madnani contributing when he's not busy developing iOS apps for Angry Goo Dev who've been working really hard to bring you some of the best content and apps.
In the last few days, we've introduced two changes to this site, so if you're reading this in your RSS app, come visit the site and check 'em out. First, we've redone our site's logo. We loved the old logo style and so did our readers, but it was not possible to use it anywhere else. So I took the help of Aaron Mhanke from Wet Frog Studios. Secondly, we've added our list of categories to the sidebar so it's easier to browse through all the apps of a particular platform. It's a fairly obvious feature addition, so I'll admit I was just lazy to add it. I'll be rolling out a few more changes to the site in the next couple of weeks, including post footer links for Android and Windows Phone apps.
Since the beginning, we've strived to offer a clean, clutter-free experience when reading on this website and I believe we've done a fairly decent job at it. I'd like to thank all my friends, followers and all the readers of Beautiful Pixels for their continued support. A shout out to our fantastic partners at VPS.net, GoSquared & MaxCDN and all our previous sponsors and advertisers for their support. I love going through feedback, so if you have anything to say, send me an email. In the end, there's no better feeling than knowing that your work is read and appreciated.
If you're looking to advertise on the site, you can either advertise via Fusion Ads or sponsor our RSS feed.