if (screen && screen.width < 767) {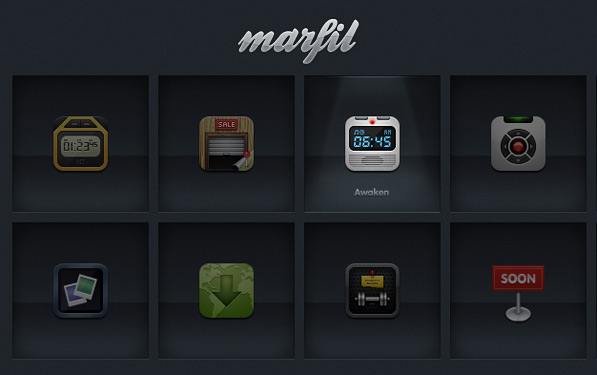 Artist Profile: Marcelo Marfil
---
[tweetmeme] The characteristic user interfaces in the Apple community start off with the icon. It shows the attention to detail a production has gone through, to make the product as comfortable for the end user as possible. The icon is the first thing the user see's of an app, practically judging the app by what it represents. We've had our greats in the icon department on the Mac, but now with the app store's boom, there's a whole lot of new opportunities created for designers looking to be a part of the Apple revolution.
Marcelo Marfil is one such designer that stands out from the crowd. A social communications graduate, Marcelo worked for a number of advertising agencies, starting from a small design agencies in Sao Paulo, Brazil (which is where this young man hails from), and even collaborated with his girlfriend—now fiancé—on starting his own agency.
However, for mysterious reasons unknown to him, Marcelo quit the advertising business, and decided to get into icon and UI design. Why icon and UI design? Marcelo initially wanted to be an artist in the traditional sense, but couldn't quite get a grip on it. He then started designing websites, and doodling around in Photoshop and Illustrator, and 8 years later, he's what you see in his work. Part of the reason for picking icon and UI design specifically, was from what I gather, the Mac. Starting out with basic doodling around with the default icons, creating variants, he found that he was actually pretty good at doing what he does. So he moved into professional spaces, and is now the proud designer of a number of apps for the iPhone, as well as some user interface design on the Mac.
Marcelo works out of his home office, and since he loves what he does, ends up pushing more than 13 hours of work each day. He keeps his office as comfortable as possible, with a nice couch, lots of water, design books, art, all of which is softened with music. His weapons of choice remain a 15″ MacBook Pro along with a 24″ Apple LED Display. He prefers the notebook+display combo as it lets him carry his work without being constrained by screen sizes. A wise choice.
Currently Marcelo is working with Emanuel Sâ, a brilliant Portuguese icon designer, on their new design house "Iconlicious", set to be unveiled in January next year.
One other thing that drew me to featuring Marcelo, was his beautiful website. Not only does he showcase beautiful works, they're presented in the slickest, most minimal user interface. Part of the reason I can't wait to see what Iconlicious will look like.