if (screen && screen.width < 767) {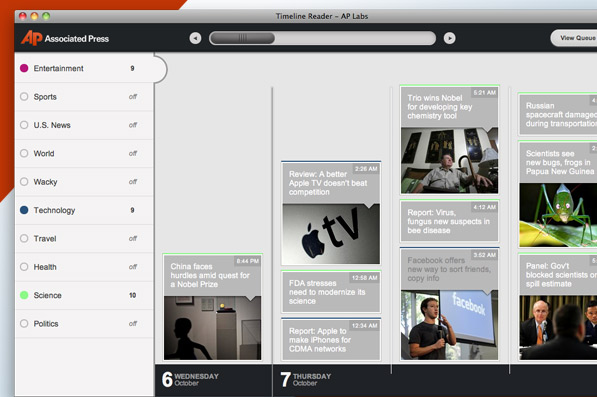 Associated Press demoes HTML5 based Timeline Reader
---
The AP Labs have been working on prettifying their work it seems. Today they've debuted a beautiful HTML5 based "Timeline Reader", which allows you to stay abreast of the top headlines for the days.
The landing page itself a beautiful sheet with the AP logo, sliding out once everything has loaded in the background. Once you're in, you can select which sections you want enabled in the left column, while the right will display them in a horizontal timeline. Add articles of interest to your queue, and read them when you're done skimming. The article views are especially well carved, with ability to switch between pictures, hide the sidebar, or collapse the article column itself.
Unfortunately though, it's extremely sluggish on the iPad. I don't know whether it's the iPad's slower rendering capabilities or whether it's bad coding, but it's not usable on the 10 inch tablet. Not just that. It uses heavy scrollbars that are hard coded, which means this was not even designed with the iPad in mind — a foolish move, but we'll hold ultimate judgement since this is just a demo.
We're done here, so go check it out.