if (screen && screen.width < 767) {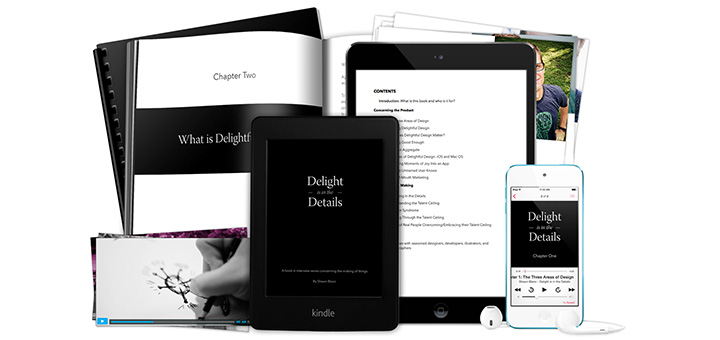 Delight is in the Details
---
For as long as I can remember, I have been following Shawn Blanc and his work on his website shawnblanc.net. I have always admired his writing, and his app reviews as well as the 'Sweet Mac Setups' series were something that I always looked forward to. Shawn always has great insights on a lot of topics and I've always learnt a lot from him and his writing.
Today, Shawn has released version 2 of Delight is in the Details, something that he's been working on over the past several months. Delight is in the Details is a downloadable kit that contains an ebook, an audio book, 10 audio interviews (with transcripts) and 8 Q&As with some of the best designers, developers, writers, and makers of the creative industry, 3 beautifully crafted videos & a Resource Index. With this, Shawn makes a case for sweating the details & putting that extra effort to make good things great.
If you're someone who does or intends to create things, could be anything, you most definitely should get this. The original Delight is in the Details kit was released a while ago and anyone who bought it back then receives this 2nd version for Free. You should go read more about Delight is in the Details here, where you also get to preview one of the three videos included in it — "The Creative Life".
Delight is in the Details is priced at $39 (with Free updates), but is currently on a launch sale for just $29.