if (screen && screen.width < 767) {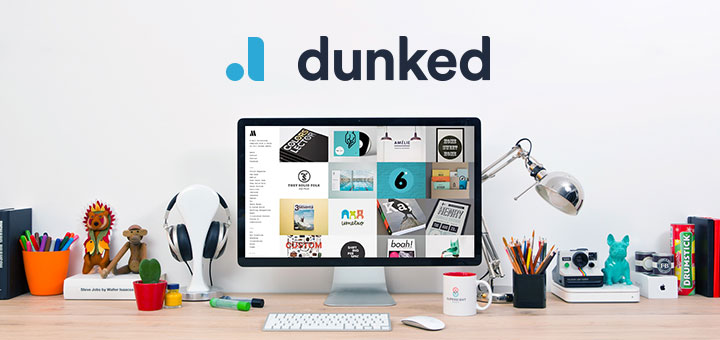 Dunked — Beautiful Online Portfolios
---
There are already a large number of websites and services out there that let you build and showcase your own online portfolio. They all offer different features, some concentrating on compatibility across various devices, some on their organizational and management features while some simply focus an all integrated service that lets you not only host your online portfolio, but also lets you sell your work to visitors. Dunked is one such website that that let you build your online portfolio and share it with the world. But in this crowded market, Dunked offers a beautiful design, ease of use and attention to detail throughout its feature-set. Dunked is a project by Orman Clark and Mark Southard. Although it has been around for a few months now, it just got a complete visual refresh and it looks absolutely gorgeous.
Dunked offers a number of professionally designed templates that are easily customizable to your liking. Not only are the templates responsive and look great on any smartphone or tablet device they are also Retina ready and looks stunning on high resolution screens.
Our pixel-perfect templates are customizable, easy-to-use and focus solely on your content. Dunked supports images as well as audio & video, so if you're a creative cinematographer, you can showcase your videos using Dunked. I love that I don't have to re-upload all my media to Dunked — it supports embedding media directly from the popular services. If your work is already uploaded to sites like YouTube, Vimeo, Flickr, 500px or Soundcloud, you can embed it directly into Dunked with ease. Your work can be bundled into multiple projects and managing them is super easy and your can be moved around with a simple drag & drop interface. Dunked also makes it easy to use your custom domain with the service, so your online portfolio has a professional feel to it. If you want to keep track of the visitors, you can easily add Google Analytics as well.
There's a great collection of online portfolios built using Dunked on their Showcase page. Dunked costs as low as $6/mon (paid yearly) for their Freelancer plan, which gives you 10 projects, 10 pages and 100 images. If you're unsure, you can sign up for a 10-day trial to get started with the service.