if (screen && screen.width < 767) {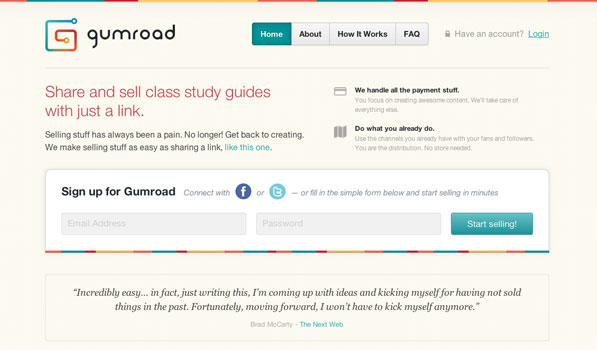 Gumroad — Selling Stuff Made As Easy As Sharing a Link
---
Gumroad is a simple, awesome web service that makes selling anything on the web a piece of cake. Built by Sahil Lavingia, who's previously been the founding forces behind sites like Pinterest & Crate, Gumroad lets you sell anything online with just a URL. Once you sign up for the service and add the details of the product you're trying to sell, Gumroad will give you a unique URL that you can share anyway. Anyone interested in buying your stuff can enter their details and payment info and get the product at the end. Simple, straightforward and super quick.
If you've visited any of the projects Sahil's previously worked on, you'd know he's no stranger to aesthetic designs. But in my opinion, Gumroad has been the best effort yet. Gumroad features some exceptional colors on its palette that when put together, paint a website that's just gorgeous to look at. Gumroad's design is aesthetically pleasing and clean, while the UX it offers is an absolute joy. The site is filled with little CSS3 animations that'll put a smile on your face for sure. Here are a few examples:
Click/Tap on the Start Selling! button on the homepage without filling in any details.
Visit this page and click on the hyperlink under the "Want to help?" section and then close the box and appears.
Once you sign up for an account, click on the Add Link button and see how the fields slide out.
Gumroad charges a flat fee on every sale you make, which is 5% + $0.30 and deposits the payments into your linked Paypal account at the end of every month. If you've ever wanted to sell something online, we highly recommend Gumroad.