if (screen && screen.width < 767) {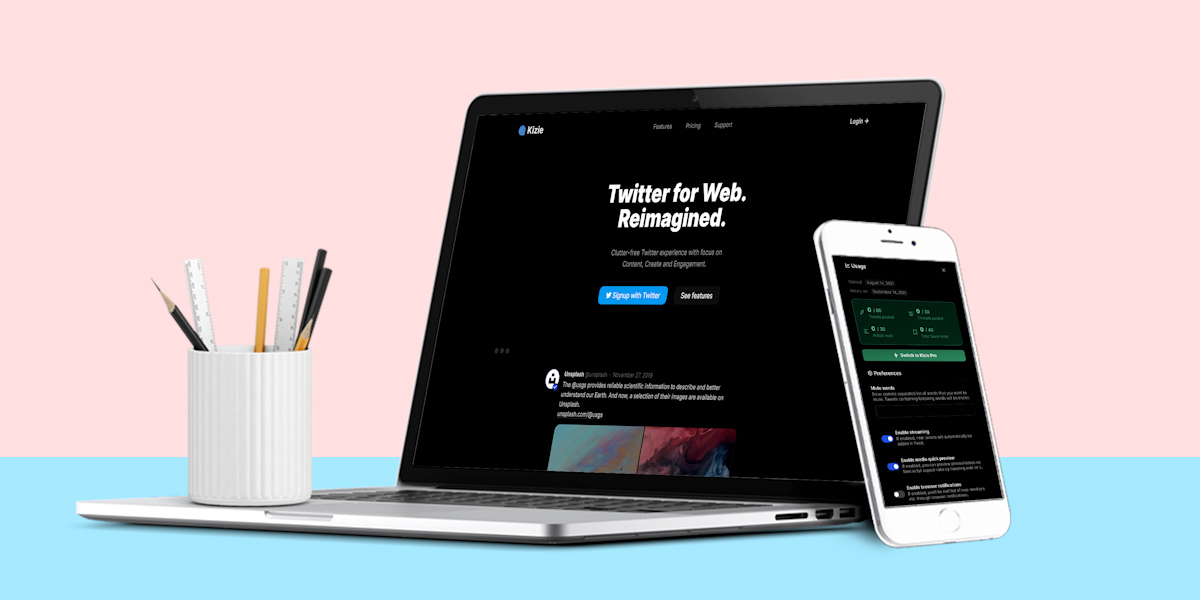 Kizie.co is a Minimally Elegant Web-based Twitter Client
Kizie.co is a shining example of really good third-party Twitter alternatives
---
With hundreds of millions of daily users, Twitter is undoubtedly one of the biggest social networking platforms out there. It's great for instantly sharing and consuming small yet effective messages called Tweets. Twitter offers its official apps for every major platform out there, along with an API that can be used to build 3rd-party Twitter apps. While the official app is pretty good in itself, it does have its own shortfalls. It's riddled with ads in the form of "Promoted" tweets that often come in the way. You also have irrelevant "trends" shoved in your face, a general lack of customizability, a confusing view of threads and the inability to edit your Tweets once you are done posting. To fix some of these problems, the company has recently announced Twitter Blue — a paid subscription starting at around US$2.99/m, but it's currently only available in Canada & Australia.
That's where standalone third-party Twitter apps step in to fill the gap. There are quite a few popular third-party clients out there, such as Tweetbot, Twitterrific, Fenix, etc. and there's a new kid on the block to join this club. Kizie is a beautiful web-based Twitter client by Rishi Mohan and is a shining example of how beautifully good third-party apps can be.
Also Read: Things 3.14 Brings Bullet Lists and Markdown Formatting to Notes
Since it also has a progressive web app (PWA) version, it can also be used easily on a smartphone without having to install a bulky app.
To quickly access Kizie directly from your Android home screen as a PWA, simply login to Chrome, then tapping on the three vertical dots on the top right corner and selecting 'Add to Home Screen' option. Doing this will create a shortcut for Kizie.co on your desktop, and then when you open it, it will work almost like an app. To do the same on iOS, you'll have to log in to Kizie.co on Safari and then tap on the 'Share' icon on the bottom. Here, select 'Add to Home Screen'.
One of the most striking things about Kizie.co is its simplistic, fluff-free interface. The developer has carefully chosen colors for both light and dark modes so that your eyes like them, and it all shows when you're using Kizie.co. It has an ad-free interface, so nothing comes in your way of quickly consuming Tweets from others. Kizie.co also offers a more spacious UI compared to Twitter, where threads are displayed in a more organized, systematic manner.
Kizie also gives more power to the user by allowing them to preview how tweets would look on Twitter before posting and surprise, surprise! Another cool thing is that there's a 'plus' icon that appears when you are writing a Tweet which lets you create threads seamlessly. So you can preview, and edit everything at the same time!
You also get to edit your Tweets within 10 seconds of posting them. This can be done by using the shortcut Alt+X or Opt+X. Further, you can also undo sending out a Tweet within 10 seconds of posting them by pressing Alt+Z or Opt+Z. 
Also Read: Lucid Lets You Unlock the True Potential of Your Dreams
Another interesting feature is the reader mode, which gives you a quick look at external links. This is especially useful if you want to cut out the clutter of ads and other links and peacefully read the contents of a webpage. This, however, only seems to works with a select few links and is wholly dependent on whether the links in your feed contain the right metadata for Kizie.
Further, there's also a feature that lets you mute certain words so that they don't appear in your feed. 
All this functionality can be enjoyed Free, without ads and with the basic features that Twitter has to offer, like browser notifications, shortcuts and the ability to save links. 
But this fantastic way to interact with Twitter does have its own imperfections. At the moment, there seems to be no way to search for hashtags, people or anything really, using Kizie.co,  which can be a bummer for many.
A monthly subscription to Kizie.co costs USD 3.99 a month, and the Pro users get benefits such as no monthly limit on Tweeting, using the Reader mode as well as getting full Tweet analytics and insights. 
Update: A previous version of this article erroneously mentioned that Kizie does not support Retweet (RT) functionality. While Kizie does support this functionality, there seems to be a conflict with the 1Blocker app that blocks the Retweet icon from showing up. Additionally, Kizie does support Reader mode in its PWA, but only for certain links. The article has thus been updated to reflect these corrections.