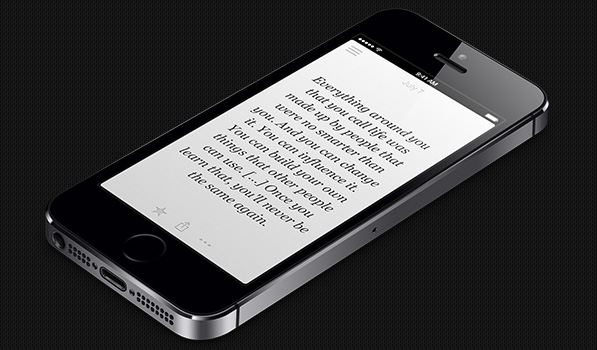 Quoth Steve is really stupendously crafted web app that displays quotes from the late Steve Jobs. It shows you a new quote every day and acts sort of a source of inspiration for you. But the most notable feature of Quoth Steve is that it doesn't really feel like a web app.
Technically, Quoth Steve is built using HTML, CSS & Javascript. However, it really shines on an iOS device. You can install the app on your homescreen and it works just as a native app would, without the Safari UI chrome ruining the fun. You can swipe between the daily quotes and use the hamburger button to view the basement that lists all the quotes until today. You really have to try it out. That said, Quoth Steve works just as great on a Mac or in Safari.
The beauty of the app is not just in how it looks, but also how it works. You can mark a quote as favorite and it syncs across all your devices. You can tap a quote to view more details about it, as well as share it to the usual social networks. There's also search included for you, in case you're trying to recollect that quote you'd read a few days ago.
You can check out Quoth Steve by visiting this url here.