if (screen && screen.width < 767) {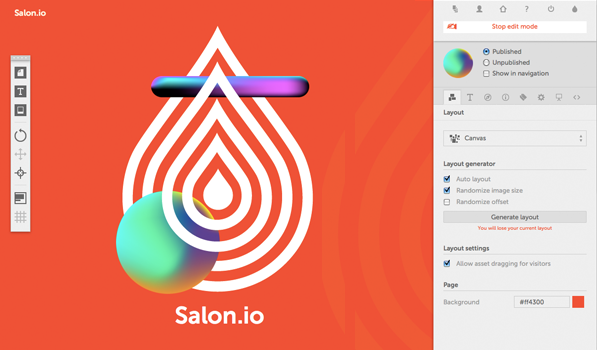 Salon.io — What you see is what it is [Sponsor]
---
A huge thanks to Salon.io for sponsoring our RSS feed this week. They have an excellent online tool for creating drag/drop/arrange kind of web pages and it works great. Go ahead and check them out.
A Berlin based team introduces a new process for designing web pages where every change is immediately visible – there is no need to save, preview or update – what you see is what it is. Anyone can use Salon.io to quickly and easily create interactive photo albums, entire websites or portfolios directly in their browser, without any programming knowledge.
The interface is extremely easy for anyone to pickup. As it's laid out like a typical desktop programme anyone who currently works digitally should have no problem getting to grips with the drag & drop system. Also pages can be created with just one click using the 'generate layout' tool. This provides a beautiful randomly generated start (or end!) point when building a page. Images, text and other assets can then be repositioned by hand – either overlaying one another, like a collage, or fluidly adjusting around one another depending on a user's settings.
At the same time Salon.io provides code-savvy users full control over CSS, HTML and, with future developments, javascript as well. The built-in code editor with LiveUpdate provides complete control over a page and allows you to see the results of your changes as they happen.
Salon.io's goal is to make online publishing easier, simpler and more diverse. The application enables anyone to create original and individual websites and affords its users a sense of empowerment & control.
Salon.io is currently in version 0.9. To finance further development a crowdfunding campaign has been launched with the campaign page having been built using their own application. For a limited time accounts are being offered with up to a 50% discount.