if (screen && screen.width < 767) {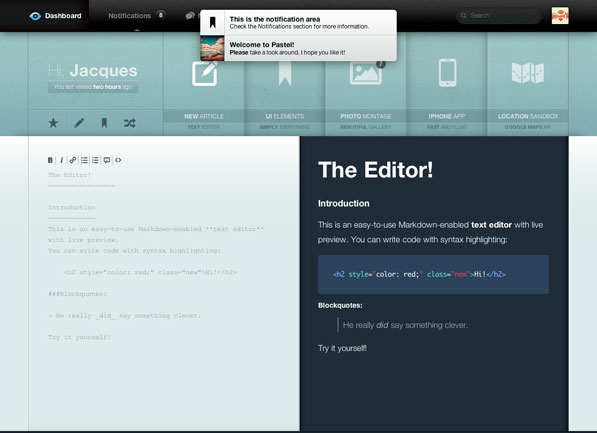 Some Exceptional CSS3 Magic on this UI
---
There are very little details that are with me about this stunning piece of work, but before I get to that, I urge you to visit this URL and check out the beauty for yourself. Of course, we recommend a Webkit browser for this.
The site, apparently, is a demo of the Dashboard for an admin interface for something 'Pastel'. There's a lot going on there — a nifty growl-like notifications area, a text-editor with live Markdown previews, a section for UI elements, a photo montage, iPhone app preview and a location sandbox using Google Maps. There's an excellent use of CSS3 and other beautiful elements throughout the site. Oh, and don't forget to check out their 404 page.
If you know more about it, please let us know on Twitter @beautifulpixels.
Update: We've just been told that this beauty of an interface is available for purchase at ThemeForest. Thanks, @__edb.
Update II: We've just received more information about this work. The creator of the Pastel Dashboard is Jakob Pedersen and he also let us know about the equally great Login page. Check out the funky wobble effect when you enter the wrong password.