if (screen && screen.width < 767) {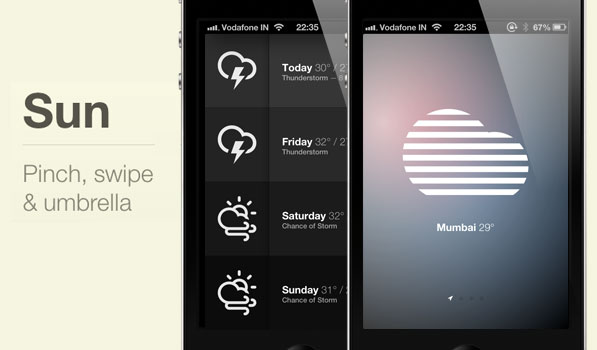 Sun — Web Weather Brilliance
---
After reviewing so many weather apps on iOS, I was more than happy to look at Sun. It pushes the boundaries of how web apps for iOS should look and feel. It works only on iOS devices after you pin the link to your homescreen.
Sun uses a geolocation API to automatically locate where you are within the browser view. It offers a very simple and elegant look at the current weather where you are and allows you to add a few more cities. It is completely gesture controlled and the animation swiping from one city to another is insanely great. It features a nice 3D cube animation that works with absolutely no lag on both the iPhone and iPad. Pinching out (or in depending on the device) brings up a slightly more detailed forecast for the current city. A two finger swipe up from the bottom of the iPhone and a pinch in on the iPad brings you to the settings view that itself looks really good. You can change the theme and a few typical weather based unit settings here. Sun also uses Adam Whitcroft's Climacons that are absolutely spectacular.
Sun is an amazing web weather app that looks brilliant and deserves a spot on your iOS device. You can visit the site here and add it to your homescreen.