In the years that I've been actively writing and publishing on the internet, I have seen my fair share of some amazing websites that have blown me over either with their design or the use of newer web technologies. But my mind just wasn't ready to handle the sheer goodness of the Ramayana project.
For the uninitiated, Ramayana is an ancient Sanskrit epic from India about the prince Rama, one of Hindu mythology's most popular gods. The site has been commissioned by Google to launch their Chrome browser in Asia and was developed by Fantasy Interactive (more commonly known as Fi) & OgilvyOne, the digital arm of O&M.
The challenge was to create a website that could narrate the story of Ramayana in today's digital age to highlight the features of Google Chrome, all while using Google's own products and services.
Beyond a digital retelling of this classic tale, the challenge was focused on staying true to the narrative as told in both the Indonesian and Thai cultures, in the context of a rich and immersive interactive experience. Building on the power and capabilities of the Chrome browser, along with a bevy of other Google services, we knew our tools were up to the task.
The team at Fi has done a remarkable job with the site, so I urge you to go ahead and take a look at it. You'll need Chrome on a Mac or PC to view the site in its full glory.
There are little areas in the entire interactive experience that make you smile. Google's products and services are superbly integrated into the whole narrative and the whole thing is very polished and smooth. The world is laid out on Google Maps engine and the illustrations and phenomenal. It's funny to see mythological characters converse in English using Google Chat, or how when Raavan goes into stealth mode as a Monk, the browser window displays Chrome's Incognito icon. Chrome's 'Aw Snap" window makes an appearance too.
Fi has published an in-depth case study talking about the project and the technologies used here.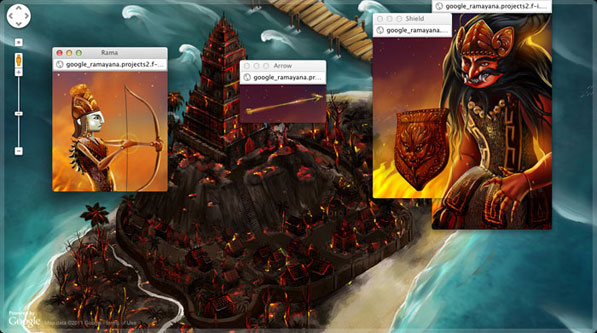 Thanks Nikhil.