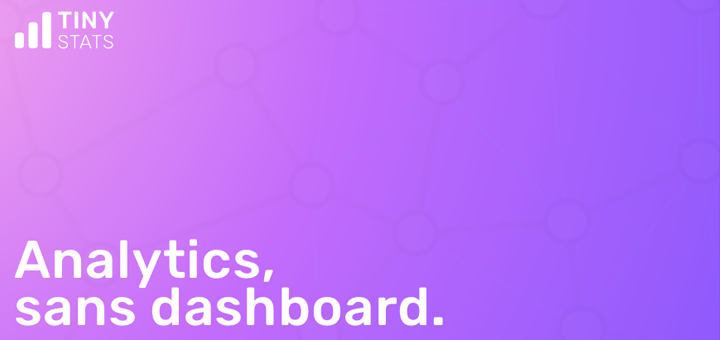 Tiny Stats Delivers Your Website's Analytics Straight to your Inbox
---
Update II: We are revoking our recommendation of Tiny Stats, as the product has recently changed ownership and has been facing issues over the last month or so. Our paid account with Tiny Stats was randomly cancelled without warning and we stopped receiving reports for the site. When asked, we were told that there were some technical difficulties, and that they'd look into our account. However, we've not heard back from them in 10 days. As a result, we do not recommend Tiny Stats to our readers.
Update: Tiny Stats have reduced the pricing by over 75%. Take a look at the new pricing at the bottom of this article.
There are all kinds of web analytics solutions out there, many of which offer an in-depth look at how visitors use your website. Unlike most of these solutions, Tiny Stats is a lovely product by Tiny Anvil that brings your website's analytics right to your email inbox.
As someone who manages multiple websites, I have tried and tested most of the analytics solutions out there in the market. What product I end up using depends on the nature of the website or the client's requirement. However, I actively avoid the ones that are too complex because I hate going through multiple pages or irrelevant or unnecessary data. 99% of the time, the only data I'm concerned about is how many visitors came to the site, where they came from and what pages did they visit. That's it.
Google Analytics is by far the biggest name in the industry, but also the most complex. You can spend hours looking at the data it collects and reports via the dashboard, and most of it is an overkill anyway. We've been using GoSquared here on Beautiful Pixels for many years now and while it's a fantastic product, they've recently expanded into the People Analytics and E-Commerce territory that we don't really use here.
I had been a big fan of Mint for several years and hold 7 licenses for it even today, but Shaun's refusal to add support for the Indian time zone (GMT +5:30) meant that I had to gradually stop using it. And with the announcement of its demise a few days ago, I can't even transfer licenses any more. Gaug.es is another analytics service that presents relevant data in a beautiful UI, but it has remained largely unchanged over the last couple of years with no big feature additions, especially after it changed ownership from Ordered List to GitHub to Fastest Forward to Expected Behavior. Then there was Observer — a stunning product that never fully launched because its creator went to work at Stripe.
I have always been on the lookout for a decent web analytics solution that presents only the relevant data to me, in a beautiful UI, and recently stumbled across Tiny Stats. As the name suggests, Tiny Stats only reports on the important and relevant data you should worrying about. And it delivers this data via email, straight to your inbox. There's no login process, no Dashboard, no configuration, no widgets and no pages after pages of cluttered numbers. Everything you want is delivered to you and accessible anywhere.
Setting it up is really simple — just enter your email address on the homepage and Tiny Stats will email you the tracking code that you need to add to your website. Once you add the code, you will get a confirmation email and you're all set. Here's what the report looks like: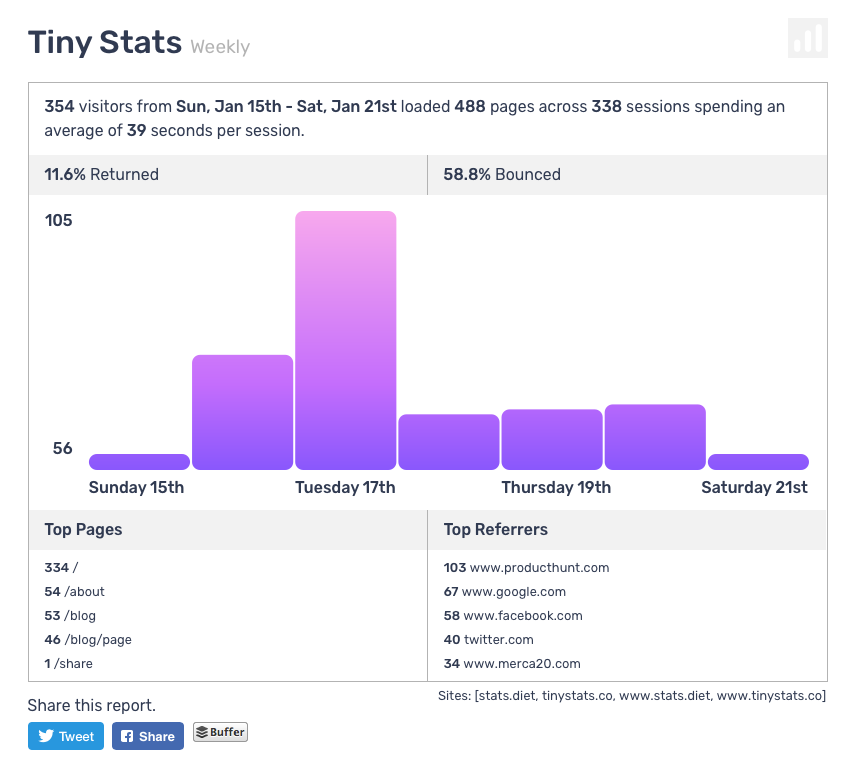 Tiny Stats is free to use for a week, and you can extend usage for a month for $9 or for a year for $99. You can also refer a friend to get a free extension for a week. Note the really cool domain name that Tiny Stats uses — stats.diet
If you own or run a website, we highly recommend you give Tiny Stats a try.
New Pricing
Four days after this article went live, Tiny Stats has quietly reduced their pricing by over 75%. The new pricing is as follows: