if (screen && screen.width < 767) {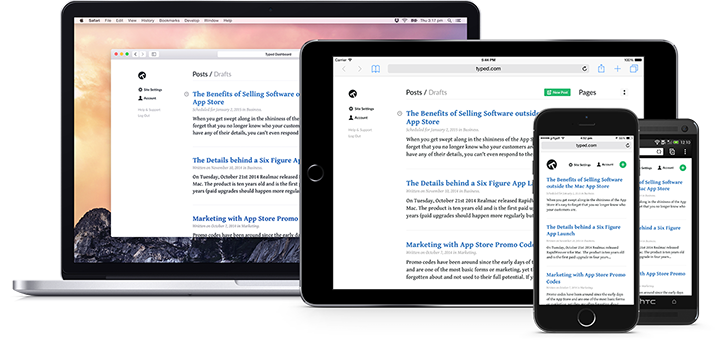 Typed — A Better Blogging Platform
---
Exactly two months ago, we wrote about Typed — a stunning Markdown Writing app for Mac from the house of Realmac Software, developers of apps like Clear and Ember. Today, the team from Brighton, UK have announced a crowd-funding campaign for Typed.com, a web-based service that promises to be a "better blogging platform".
Typed is designed to be used by anyone who wants to publish content on the web, without all the hassles generally associated with publishing online. Typed understands Markdown and offers a beautiful, clutter-free & slick interface for you to type your content in. Typed is also not short on features. The service will boast features like themes, responsive design, multiple blogs under a single account, collaboration, tags, support for additional static pages, custom domain, pretty URLs and custom slugs, inline images, etc. Realmac Software is building Typed.com to be a hassle-free experience where you only have to care about writing.
The campaign for Typed is live on IndieGogo and it has already raised $12,180 out of its goal of $20,000 with 25 days left. Its public release is slated for August 2015, but backers will get early access around April. You can support the development of Typed for as low as $10 here.
In case you're wondering, yes, Typed (the Mac App) will eventually support publishing directly to Typed.com (the blogging platform).