if (screen && screen.width < 767) {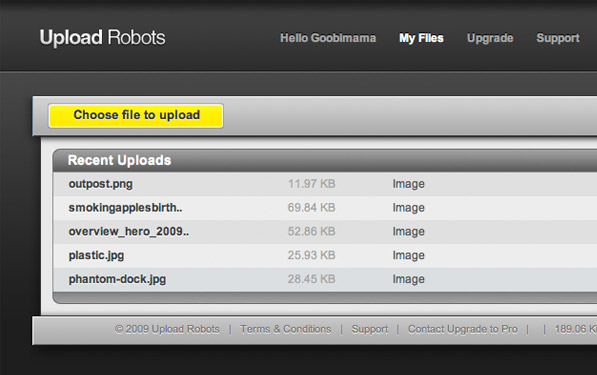 Upload Robots – File Sharing no longer an eyesore
---
File sharing has always been a seedy business, trying to find the right host with the right amount of speed, size and time restrictions, and the least amount of friction for the receiving end. Sites like Rapidshare and Mediaupload are common names in the game. The problem is, we've been made to think that these assholes are doing us a huge favour by hosting our files, for which we have to pay by dealing with bad design, poor user experience, and zero end user satisfaction.
Enter Upload Robots. You can definitely feel the Apple-centric design philosophy behind the site. The homepage is a clean view, and all you have to do to upload *any* file is just drop it into the upload box. After a quick data transfer, you're presented with a slick file manager. You don't need to register, or wait for any counter for the free account. If you're a registered user—a 9.2 second process—your past uploads are all in place. Grab the shorurl and send it to anyone you wish.
Upload Robots is a free service, while the Pro account allows you larger files (upto 250MB each instead of 10MB), more storage, secure uploads, faster uploads, at $5/month.