if (screen && screen.width < 767) {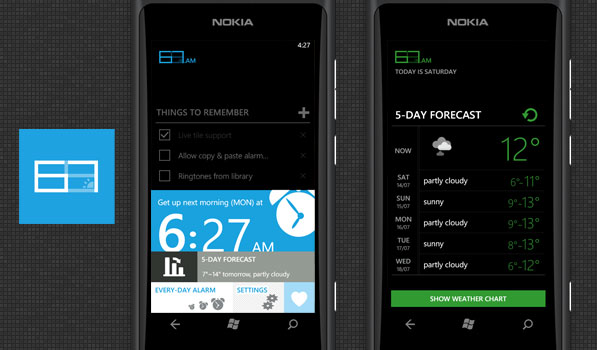 627.AM – An Intuitive and Gorgeous Metro Alarm Clock App
---
I really love apps that completely embrace the platform they are on and 627.AM by Justin Liu is a perfect example of how even something as menial as an alarm clock app can be done brilliantly. It should be a showcase app for Windows Phone.
The app has 6 main sections on its home screen. It has a 'Things To Remember' section on top that has your daily chore list. You can easily add and remove tasks from here by tapping on the + or X button. The main section is the alarm clock which you can access by sliding it up or tapping on it. This shows you when your next alarm is and also lets you quickly save or edit the current one. There's a bar at the bottom that gives you easy access to your alarms for the entire week and alarms here can be activated or deactivated by tapping on the alarm clock icon next to the day. I love that there's an option to switch all of them on or off at the bottom. Every view change has an elegant animation and these are the things the platform needs. Almost every app on the platform has the typical metro look to it with no real effort put into animations or anything. There's a weather chart and forecast section below the alarm section that lets you view the highs and lows for the next 5 days. The 5-day forecast section is definitely the highlight of the app for me. The subtle animations with weather elements is absolutely spectacular here and there's a quick refresh button on top. The settings page lets you set your location and choose your alarm sound in addition to giving you some live tile settings. The app also has the best help and startup view I have seen on the platform.
This is pretty much a must have app on Windows Phone and I would love to see a small section for top news added as it is almost a perfect app to wake up with along with a cup of coffee in the morning. The app is available for free with ads and there is an ad free version that costs $1.49 on the Windows Phone Store.