if (screen && screen.width < 767) {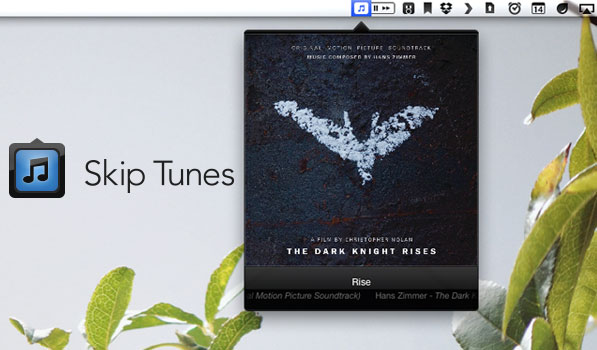 Empower your Menu Bar with Skip Tunes
---
This isn't the first time Skip Tunes has made an appearance here on Beautiful Pixels. Lukas had talked about the first version of the app back in February this year and it had impressed him, with him noting that "[everything in the app is] is minimalist and very polished."
Yesterday, Skip Tunes was updated to version 2.0 that introduced an complete UI overhaul and added some nifty features that were missing in the previous version. The UI has been redone and bears a striking resemblance to the 'Now Playing' window of iTunes. Album Artwork gets prime real-estate in the new UI and the controls only appear when you hover over the window and when clicked, launched the music player. The window also now makes it possible to scrub through the song's progress. Yes, the graphics have been updated for the Retina Macs as well.
This update isn't all UI though. Keyboard lovers will welcome the addition of keyboard shortcuts to the app, one of the reasons why I never tried the first version myself. The app is now smart enough to hide the menubar controls if the music player isn't open and you can now enable shuffle for Rdio and Spotify too.
This is a solid update to Skip Tunes and a free one to all existing users. If you haven't already, you can purchase the app directly from the Mac App Store at just $1.99.
Update: The developer has put together this handy chart that compares the popular music streaming services — Spotify, Rdio and MOG.