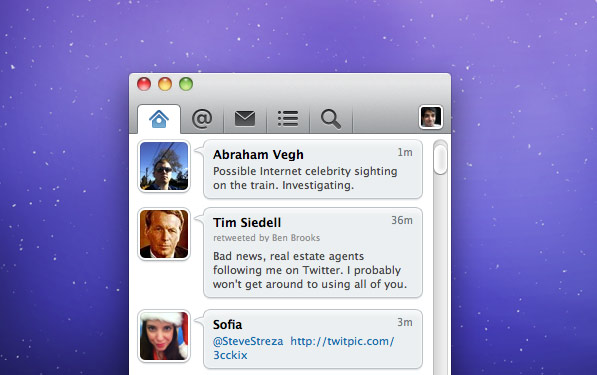 After promising a Mac client of their quite loved Weet for iPhone, the team that is Raptor Apps and Marfil delivered an early preview of what is to come.
Marfil's work is always appreciated. Although the custom toolbar raises questions about whether these custom UIs are welcome on the desktop (this one doesn't even have an inactive state), it's nice to look at. The toolbar itself is drop dead gorgeous, probably the defining aesthetic of this app. The custom scrollbar is nice, although a little too thick (can't wait for scrollbars to be abandoned completely).
The most important part of a twitter client, the tweet list, is made of rather boring iChat bubbles (a little better looking than Echofon's). I think Tweetie nailed it in terms of the tweet list, and the rest still haven't figured out a better looking solution (aside from copying it entirely).
Weet for Mac is a great client. It's got keyword and username filtering, multiple accounts. The UI is a little wonky right now (beta beta beta), but it'll be sweet once it smoothens out. You may go ahead and download the preview, if you haven't already.