if (screen && screen.width < 767) {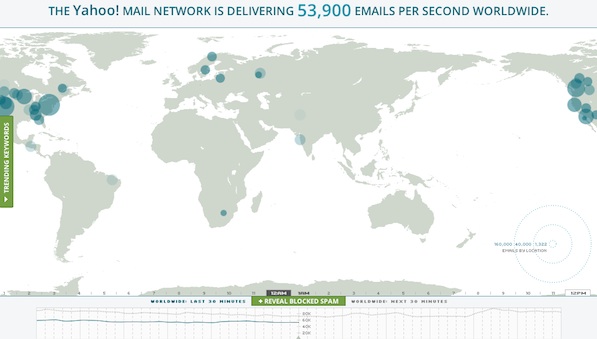 The Platter — 14 April 2013
---
You've been patiently waiting for this week's platter, haven't you? We know, we know! We were slightly late this week, but the fresh and tasty pixels have now been served for you.
[showcase id="7405″]
Rando is a brilliant new app that has been conceptualized and implemented by ustwo™. Rando is a genius take on anti-social photo-sharing. The app has no social aspect to it at all — you click a photo, a "rando", that is randomly and anonymously sent to a recipient anywhere on the globe. For every rando that you post, you receive one anonymously and randomly. That's it. There are no filters, comments, likes, profiles to view, friends to add or anything else. Just post a photo and receive one back. You only know where your Rando was delivered, not which person received it. Randos are round and look great. It's a very interesting concept and in my testing, I received some very cool randos. The app is available FREE on both the popular smartphone platforms — for iPhone on the App Store here and for Android on Google Play here.
[showcase id="7411″]
If you're a Craigslist user, or even a lurker, you're gonna love Mokriya Craigslist. Designed and developed by the folks at Mokriya, Mokriya Craigslist is an officially licensed iPhone and Android app for Craigslist. It's gorgeous and sports some absolutely incredible animations. The user interface is very polished and is a joy to play with. The app works worldwide and includes most of the features that the website offers, including the ability to post your own ad. Mokriya Craigslist is incredible well crafted and is available Free on the iOS App Store and Google Play.
Bjango do way too much for the developer community aside from their insanely good looking apps. Skala Preview for Mac along with Skala View for iOS has been the quintessential app for designers to see how their graphics look pixel for pixel on iOS devices screens. This has been of immense help, but the real platform that needed this has always been Android. Android OEMs do as they please with devices and you have screens going from near perfectly calibrated LCD panels on HTC flagship devices to pentile AMOLED screens on even the best Samsung phones. Colours look different on each panel and in some cases the difference is even more than night and day. Bjango in collabration with Shifty Jelly, who also made our favourite podcast app Pocket Casts, released Skala View for Android that will help you with your designs and colour choices. Skala Preview for Mac is needed to use the View apps. Skala Preview for Mac is available for $4.99 on the Mac App Store and Skala View for Android is available for free on Google Play.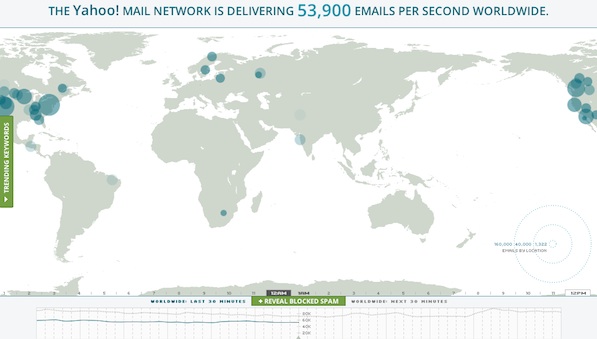 Generally speaking, Yahoo! doesn't get talked about much when it comes to design. For the longest time, most of Yahoo's products have sported the same generic design and UX. Even Flickr, arguably Yahoo's most popular product for creatives, has remain unchanged; the homepage having undergone a facelift just a couple of days ago. But I stumbled across Yahoo!'s visaualization tool recently, specifically the Mail visualization and was pretty impressed. Yahoo! Mail Visualizer shows you a visualizatio of all the email that Yahoo! delivers each second. It shows you a map with the locations that are currently processing emails, along with the total count. There's an option to show/hide blocked spam, which Yahoo! says is 4 times the mail delivered. You can also view a sheet with the graph and word-map of keywords. All this data visualized in this form is very fastinating to look at. You should definitely check it out here.
[showcase id="7407″]
Thinglist is a gorgeously simple app developed by Elepath that helps you make a simple list of things you don't want to forget. It's a very simple app that makes it easy to remember things — just select a category, type what thing you want to remember and add to the list to save it. Thinglist is exactly what the name says — a simple list of things you want to remember. Categories that you can file a thing into include Bar, Book, Food, Movie, Person, Idea, Music, Place and Product. Adding things into Thinglist is extremely simple. The UI is flat and charming, there's nothing you won't like about it. The icons used for each category are beautiful. Thinglist is not rich when it comes to features, but it's not designed to be. It's a simple app to simply remember things and is available on the App Store for $0.99.
Paul Burke, a designer from Brooklyn, NY has posted a concept design of his imagination of what the Gmail app on Android could be like. The design, according to him, borrows from the Gmail for iOS design and focuses on people and content, along with a new navigation. Paul touches on some very interesting UI layouts and the concept design looks very intriguing. I'm primarily an iOS user, but I'd have loved to play with a Gmail app like this. You can check out more of the screenhots here.
In one of our previous servings, we wrote about Thermodo, a hardware thermometer for your iOS, Mac or Android device. Thermodo began as a Kickstarter project by our friends at Robocat that successfully ended with a whopping 960% funding! In case you missed it, you can now pre-order your own thermodo directly from the website here.
Do you have some feedback about this week's Platter? We'd love to hear it.