if (screen && screen.width < 767) {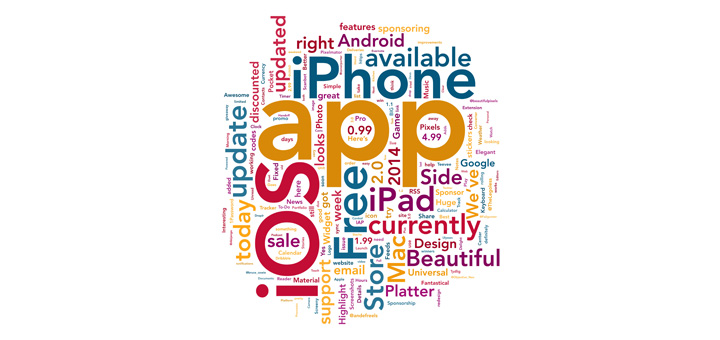 Wowed Creates Beautiful Word Clouds on your iPhone
---
I used to hate seeing "Tag clouds" on blog sidebars. I think I still do. I never thought word clouds would interest me so much, until I came across Wowed app for iPhone. Wowed (aptly named) is a beautiful iPhone app that lets you create and tweak word clouds that you can then share with anyone.
Wowed allows you to automatically create word clouds using Tweets from Twitter, content from Webpages, text on your clipboard or from any words that you manually enter in the app. The Twitter integration is probably the easiest and offers a fascinating look into your Twitter stream. Wowed uses the native iOS Twitter integration, so your accounts are directly available in the app. You can create a word cloud of your own tweets, your @mentions, or even run a custom search on Twitter. All the word clouds you create are automatically saved in the Library, so that you can tweak or edit them in the future whenever you want.
Wowed lets you style your word clouds using a variety of different layouts, colors, fonts and even lets you manually add/remove words from the list. Once you are happy with how a word cloud looks, you can share it as an image (small or large) or as a PDF. There's also a nifty Share Extension that you can use to create a word cloud directly from the browser.
Wowed is available Free on the App Store with a single $2.99 IAP to Unlock the Premium Features. The free version lets you choose from 3 fonts, 9 colors and 1 layout and export the image in small size only. The Premium version lets you choose from 22 fonts, 22 colors and themes, 6 layouts and export as PDF or a Large image (5120px).
The word cloud used in the image above is from the @beautifulpixels Twitter stream. The large version of that image is available here.