if (screen && screen.width < 767) {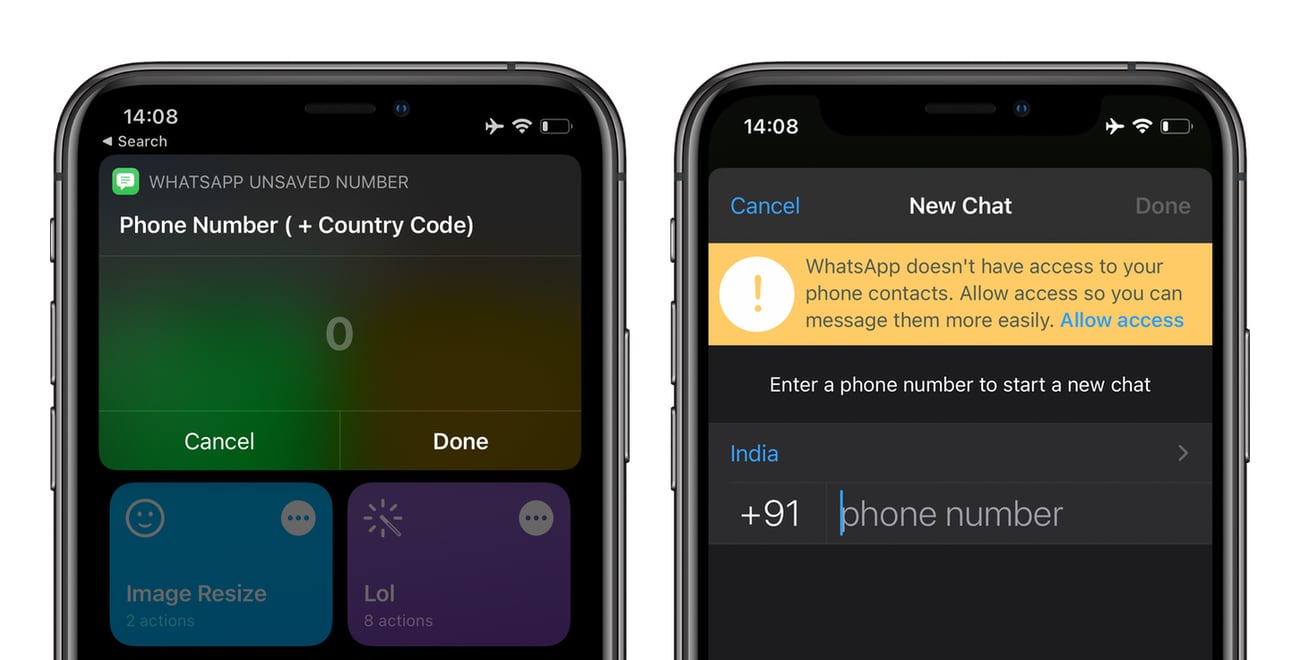 How to Send WhatsApp Messages to Anyone Without Saving Their Number on iPhone
There's no need to save the phone numbers of random people anymore.
---
The world's most popular messaging app needs no introduction, but it could definitely use a few basic features to minimise some of its pain points. I find it extremely irritating to save people's phone numbers as contacts every time I have to send them a simple WhatsApp message. I buy stuff online all the time and it's really frustrating to save contacts such as "Michael Craigslist iPhone Seller" or "John E. Bay iPadman". Why do I have to save contacts to message people on WhatsApp? Are you too wondering how to send a WhatsApp messages without saving phone numbers?
Fortunately, there are a couple of easy solutions to this problem and one of these solutions uses Siri Shortcuts, which is fast becoming my preferred solution to various app and iOS limitations.
How to Send WhatsApp Messages Without Adding Contact
The best way to send WhatsApp messages to anyone without adding contact is to deny WhatsApp access to contacts.
Open Settings, scroll down and tap Privacy.
Tap Contacts and disable Contacts access for WhatsApp.
Open WhatsApp and go to the Chats tab. Tap the New Message icon on the top-right.
Now you will see an option to select the country and enter a phone number. Just copy this from your address book and paste it in WhatsApp.
Tap Done and then tap OK in the pop-up.
This will begin your WhatsApp conversation with any number without adding it to your contacts. Remember that denying WhatsApp access to contacts means that you will have to follow these steps for every new WhatsApp conversation.
How to Send WhatsApp Messages Without Saving Number
If you want to give WhatsApp access to your contacts and yet want to message some people without saving their number, Siri Shortcuts is here to help. First, you should read this post to get basic information such as how to set up and use the Shortcuts app on iOS. Following that, it's time to install a kickass shortcut.
Download this WhatsApp Unsaved Number shortcut.
Open the Shortcuts app, go to the My Shortcuts tab, and tap WhatsApp Unsaved Number.
Type the phone number with country code in the pop-up. If your number is +1 221 552 1566, you should type 12215521566 in the box. Then tap OK.
You'll now start a new chat in WhatsApp with the number you just typed.
That's the power of Siri Shortcuts for you. We'll be writing about many more Siri Shortcuts in the future, so keep watching this space for lots more useful Siri Shortcuts.