if (screen && screen.width < 767) {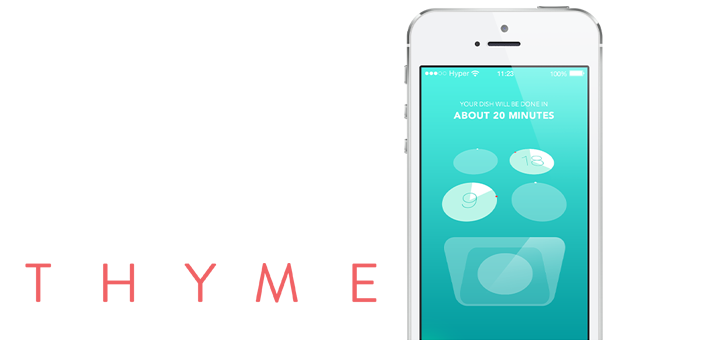 Thyme — The Smart Kitchen Timer App
---
Thyme is a handy kitchen-timer app available for both the iOS and Android platforms. There are already plenty of kitchen-timer apps available on the App Store and Google Play and we've written about a few here on Beautiful Pixels in the past. Thyme offers a unique combination of features that easily sets it apart from the rest.
Unlike most other apps, Thyme offers timers for your stove. When you're cooking in the kitchen, you are almost never just using a single burner on the stove — you always have multiple things being readied simultaneously and hence need multiple timers to be running at the same time. Thyme offers a really simple interface that lets you set timers for each burner on your stove, thus making it easy to keep track of each timer. It also offers an additional timer for your oven/microwave, so there are five timers that can run simultaneously on your phone. A quick glance at the screen shows you how much time is left on each timer. Setting up a timer is easy and Thyme fires local notifications when each timer runs out, with the name of the timer mentioned in the notification. If you're on Android, Thyme has countdown timers running in the notification tray as well. Yes, the app is able to run in the background on both platforms.
If you're an iPhone user, Thyme is available for $0.99 on the App Store. If you're on Android, you have two options on Google Play — a Free, ad-supported version and an ad-free version for $1.17.