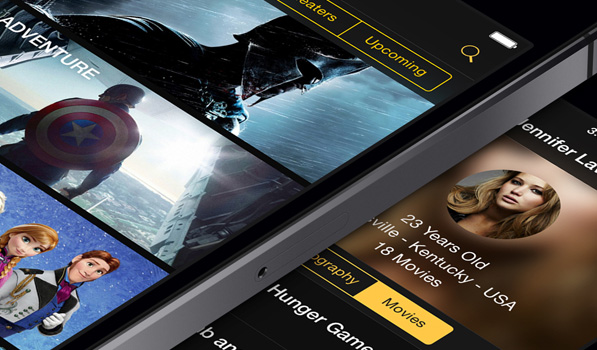 Taphive, the designer/developer duo behind the intricately crafted apps such as Tick & Blur Studio today released version 3 of their popular movie catalogue app — TodoMovies. We've already featured TodoMovies and TodoMovies 2 here on Beautiful Pixels in the past and if the quality of their previous apps is any indication, TodoMovies 3 automatically finds a spot here.
TodoMovies is an iPhone app that lets you discover new movies that you can then catalogue as 'To Watch' or 'Watched'. The app collects all kinds of meta data about a movie like posters, trailer, gallery, cast information, release date, etc. and presents it in an absolutely stunning UI. Version 3 is a much awaited "iOS 7 Update" to TodoMovies, but packs a lot more than just visual tweaks to the UI.
The UI has undergone a complete overhaul in TodoMovies 3, now sporting even more scrumptious pixels. However, the little animations, transitions and blur effects spread throughout the app are far more impressive and make the whole experience of using the app more lively. Movies are visual treats and TodoMovies perfectly compliments them with its UI. The artwork looks stunning and the synopsis & other meta data is brilliantly laid out over a frosty glass effect on the poster.
New in version 3 is the introduction of a News feed, that pulls in feeds from different movie-related websites and can be browsed by three types — General, Movies and Celebrity. One of my favorite things in this app, which is also one of the best animations I've seen on iOS, is the share animation. You've got to see it yourself.
TodoMovies 3 can notify you when a movie is about to release and this option can be set as default in the app's settings. Here, you can also enable the app icon badge and set the cellular video and image qualities.
TodoMovies 3 is available Free on the App Store. If you've used TodoMovies 2 in the past, you will have to grab this app fresh from the App Store as it is a new, separate app (technical reasons, according to the devs). TodoMovies 2 received a minor update that'll let you export your existing data out of v2 and into v3.