if (screen && screen.width < 767) {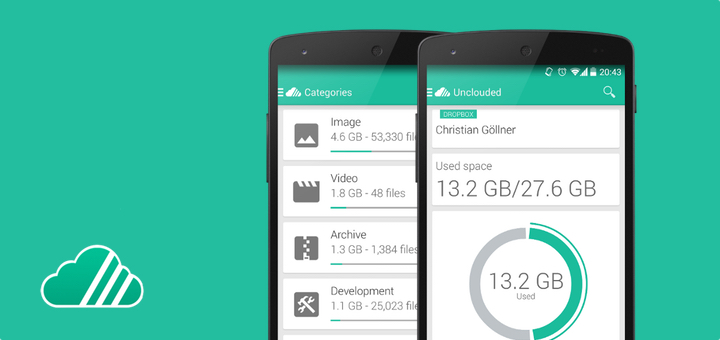 Unclouded For Android Wants To Make Sense Of Your Messy Cloud Storage
---
iCloud was supposed to be our file system saviour. The dream of managing data without interacting with files didn't end well thanks to how unreliable iCloud was at launch. Dropbox, with its accessible and universal file management system won and the dream of the cloud ended up being just a messy folder. Unclouded aims to make sense of your messy Dropbox and Google Drive cloud storage.
All that free space you earned in promotions and a careless attitude means your Dropbox storage is far from organized. Sure it's like your bedroom where you know exactly which obstacles on the floor to tread over before finding that blue jacket. There's a reason most people don't work in a messy environment. For me it's impossible to get any work done when everything around me is a mess. Dropbox and Google Drive apps do a good job of displaying the content but don't offer features to manage it beyond some basic interactions.
Unclouded is seemingly a solution to this problem. It organizes your messy content in a way that's quickly accessible and offers an easy way to move stuff around. Once you're logged in, the app displays your free/used space in a ring chart. There are two ways to sort your files – Explorer and Categories. Explorer just lists the folders and files. The path is mapped out at the top like any good file explorer which makes jumping back to the root folder really easy. The Categories view sorts the files according to the type. So you get categories for image, video, ebook, documents, and even source code. You can sort files by size as well which makes things easier.
Unclouded also has a duplicate finder and it works wonderfully. It will show you the file once and will list the details about extra copies and the space taken. You can then tap and choose to delete them. And this is where you hit the paywall. The app is free to download but deleting, moving, uploading files and creating folders requires a $1.99 in app purchase. The paywall implementation is similar to Overcast. If you're ok with just accessing your cloud storage files and have no plans of organizing anything, the in app purchase will not be useful. The upgrade is more than worth it thanks to how easy it makes things.
The unlocked app is also a great Dropbox app replacement. The search and categories view make sure you get where you need to go as fast as possible. Overall, Unclouded is just a lot faster than the default Dropbox app. The app heavily utilizes the Cards UI that became standard with many third party apps in Kitkat.
I hope something as powerful as Unclouded shows up for iOS soon. Unclouded is available for Free on Google Play with an in app purchase to unlock the important features.