if (screen && screen.width < 767) {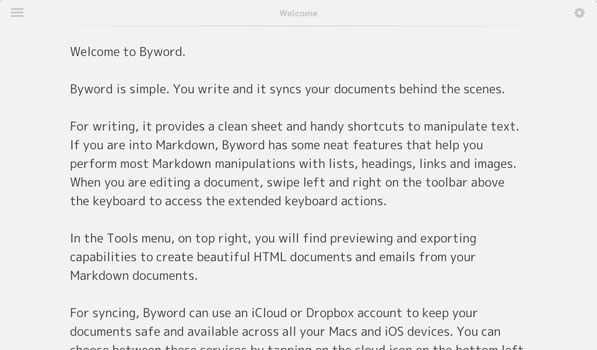 Byword — The Simple Writing App for Mac Comes to iOS
---
Byword is an exceptional writing app for Mac that has just been released for iOS as well. It is one of the few "distraction-free apps" that is simple, elegant and yet features an unmatched level of polish.
At its core, Byword is a simple text editor. It provides a beautiful and elegant on-screen environment to write in and is a fabulous tool for long-form writing. The app was first launched for OS X a few months ago and was a great alternative to iA Writer. The Mac app offers both a Windowed mode and Lion's native fullscreen mode. You also have nifty word and character counts at the bottom of every document. Byword offers minimal preferences, letting you choose between a Light or Dark mode and a set of 5 default fonts.
The OS X app and the iOS app, that was recently release on the App Store, now support iCloud and Dropbox syncing, giving you the ability to store/sync your documents in the Cloud. The latter improves on the "beautiful design" and features a stunning font that looks great on the Retina Display my iPhone 4. It already has my mouth watering thinking how it's gonna look on my new iPad, which is where I'll be doing most of my writing from now on. The iOS app offers an additional layer above the keyboard where it displays the character and word counts and if you swipe to the right, gives you a handy set of shortcuts to manipulate your text.
Other nifty features include Markdown support, support for folders if you're using Dropbox and the option to export/email your Markdown files. Byword for Mac sells for $9.99 on the Mac App Store and the new iOS app is on sale for just $2.99 on the App Store.