if (screen && screen.width < 767) {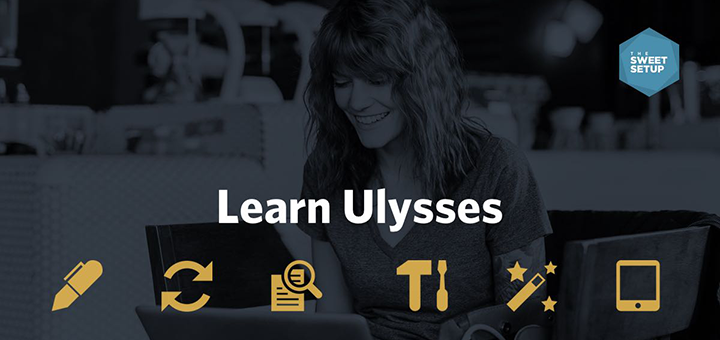 Learn Ulysses — A Set of Video Tutorials from The Sweet Setup
---
Ulysses is by far my favorite writing environment on both the Mac and iOS platforms. It is a remarkable app that serves the needs of all kinds of users — from those looking for a minimal text or notes app to those looking for a full-fledged writing environment, complete with its own library, customizations and syncing. Although I personally prefer Bear for short notes and random snippets and use Ulysses for long-form writing ideas (mostly articles), I know several others who use Ulysses with a one-size-fits-all approach. And that's the beauty of Ulysses — thanks to its varied and impressive feature set, you can use it however you want.
To help you make the most out of Ulysses, the folks at The Sweet Setup have come out with a new course called 'Learn Ulysses'. This is a set of seven video tutorials designed to thoroughly take you through all the features that Ulysses has to offer, making you more productive.
The topics and features covered in these seven videos are:
Getting to Know Ulysses: In just a few minutes, we'll get you quickly acclimated to the basic structure of how Ulysses works.

Writing Tips and Tricks: Everything you need to know to rock and roll with Ulysses' unique use of Markdown syntax and plain text.

The Ulysses Toolbar: There are many powerful features hidden beneath the simple design of Ulysses. Discover where these features are and what they do, so you can use them in your own workflows.

Main Features: One thing that sets Ulysses apart is how powerful it is. We'll show you more of the powerful features found within Ulysses so you can really make it dance.

iPhone & iPad Apps: We'll show you some of the features that are unique to the iOS versions of Ulysses.

Backup & Restore: We'll show you how to access and navigate your backups so you can restore files or just roll back to a particular version.

Powerful Search, Find, & Replace: Ulysses has an incredibly robust global search option, on top of the standard find and replace features you would expect. We'll show you why this is so great and how you can make the most of it.
Each video is only about 7 minutes long, so you can easily get through them during your daily commute, a short break or any time during the day.
The entire course is available via Full HD videos that you can download and watch whenever you want, along with complete transcripts of the videos. The 'Pro' version of the course is priced at $29, but is available at an introductory price of $23 until September 5, 2017.
As part of your Pro purchase, you also get access to the following bonus features:
Setup Interviews: Get a behind-the-scenes look at how others are using Ulysses in their day-to-day workflows.
Hidden Gems Cheatsheet: An unordered, quick-reference list of additional features and keyboard shortcuts you may not know about, but that you'll be glad to have discovered.

If you're skeptical, you can also get a Basic version of the course with only the first five out of the seven (plus two bonus) videos at $19. This makes the $23 Pro purchase containing the tutorial with the Search, Find and Replace feature well worth it.