if (screen && screen.width < 767) {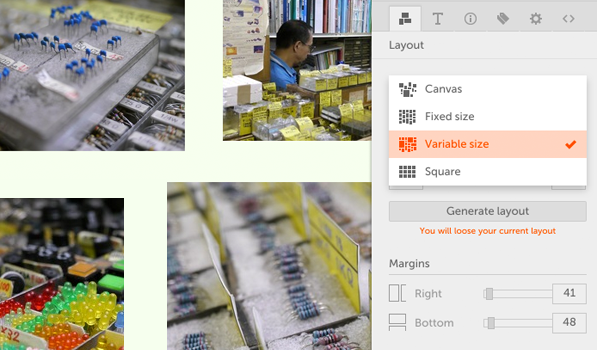 Salon.io — A Whole New Way of Presenting Images Online [Sponsor]
---
Our thanks to Salon.io for sponsoring our RSS feed again this week. If you missed the invites last time, make sure you check 'em out below — they have a few more invites for our readers.
Salon.io is an entirely new website creation and portfolio building tool made by a team of creatives, coders and designers based in Berlin. The whole point of Salon.io is to allow our users to create and edit their pages on the fly with as little between them and their work as possible. Because of this we have an entirely drag & drop system for uploading and positioning your images, text can be added and edited simply by selecting it and any changes you make in your styles or code editor side menus are immediately reflected on your page. There is no need to save, refresh or preview everything is just there as you work on it.
Since our last sponsorship post, we´ve released the 0.8 update in which we revamped a whole lot the interface and added a few new features:
– new view modes 'square' and 'fixed height'.
– sliders for margins and range selectors to make laying out your pages even easier.
– a whole new code editor with live preview to help you customize your site on the fly.
– google webfonts with instant previews
– smart pages and tags allowing you to create automatic content feeds.
We're now working towards a fully blown 1.0 release by the end of the year (and are planning a funding event to help us raise money to meet our goal.) If you're interested in checking us out – we're still in private beta, but we are giving away another 100 invites to Beautiful Pixel readers. Just head over to this link to claim your invite.
For Those who missed it last time – What is Salon.io good for?
– Enjoying whole new ways of presenting images online: infinite canvas, salon style hanging, clean and clutter free templates.
– Photographers, artists and designers alike can create and publish single albums or even entire portfolios. Freely arrange any visual art on virtual walls.
– Create mood boards, image collections or mockups privately for yourself or publish them to share with anyone you like.
– Get inspiration with the help of our random layout generator.
– Display mixed media (text, video and audio along with your images) easily.
Salon.io is developed as a Single Page Web App (using Backbone.js) a novel architectural style that lets developers write interactive websites in a more integrated and efficient way. The approach is to assign more duties, which have been typically placed in the backend in traditional websites, to the frontend. Users benefit from faster loading times and a snappier interface as bandwidth and server requests are noticeably reduced.