if (screen && screen.width < 767) {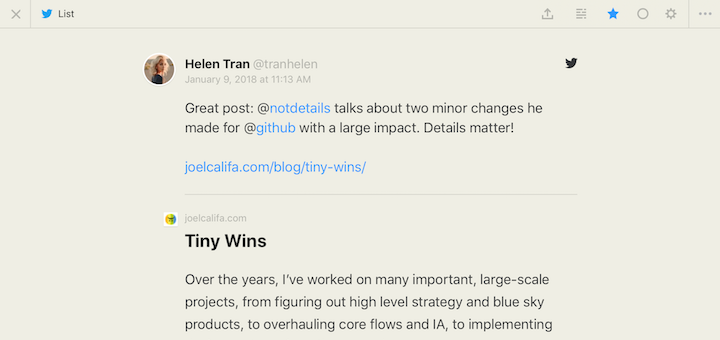 You Can Now Subscribe to Twitter Content in Feedbin
---
Feedbin has been my favorite RSS service for a really long time now. I quickly adopted it after Google shut down its Reader service and Feedbin has delivered an exceptional experience since then. I use it with ReadKit on my Mac, and Reeder on my iPhone and iPad Pro. Feedbin works amazingly well, syncing your feeds in the background, or you can even use it as a standalone service in your browser, combined with the Feedbin Notifier app for iOS.
Earlier last week, Feedbin announced a new feature that allows users to subscribe to Twitter content in Feedbin, making it the "Best Way to Read Twitter."
Tweets have become media rich, with support for multiple photos, videos and links. However, traditional Twitter clients are limited to showing tiny thumbnails and plain links. They make it too easy to mindlessly scroll through endless inane thoughts.

Feedbin treats tweets differently. The idea of the feature is to fully unpack the tweet. If a tweet links to an article, Feedbin will attempt to load the full article and display it alongside the tweet. Feedbin will also include full-size images, videos and gifs with native YouTube, Vimeo and Instagram embeds.
With this new feature, you can subscribe to users (Try @beautifulpixels), #hashtags, Twitter Lists, Twitter Searches, or even your entire Twitter Home timeline feed. My favorite thing about this new feature is that Feedbin not just fetches full-size images, videos, and GIFs, it even automatically fetches the full article that any tweet links to. This way, if you follow a prolific tweeter who shares interesting links, it makes more sense to subscribe to them through Feedbin directly.
If you're concerned that your Feedbin feed will be filled with useless tweets, Feedbin has a solution for that too:
The best stuff on Twitter exists in the form of media attached to tweets like links and images. Feedbin includes a built-in filter that will only show you these tweets. The filter is on by default, but when you subscribe you'll be able to choose to see all tweets instead.
Newsletters too:
Twitter isn't the first non-RSS feature that Feedbin has added. You can even subscribe to Newsletters in Feedbin. Your account gets its own unique email address that you can use to sign up for newsletters. Instead of cluttering your inbox, your content gets delivered to Feedbin instead.
If you haven't signed up on Feedbin yet, I highly urge you to try it out. There's a Free 14-Day Trial waiting for you.