if (screen && screen.width < 767) {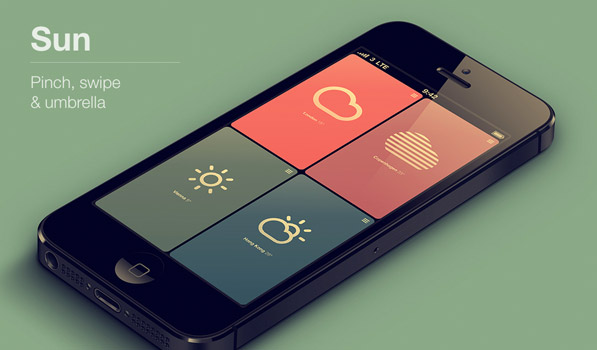 Sun — Web Weather Brilliance Reborn
---
Remember Sun, the Weather web app that we wrote about back in July last year? It was another phenomenal example of what could be achieved in a webapp using the modern Webkit offerings and some iOS APIs. It made use of some neat gestures to navigate in the app and of course, it was painted all over with lovely pixels and some pretty colors. The app was recently updated and has blown us away with its new feature-set. We couldn't have imagined that it would come to this.
On first launch, it will ask you for you location and load up the weather info along with 3 other default cities. You can move between these cities by swiping from the left or right edges. Sun has a lovely cubed interface for these cities, and it moves without any lag on my iPhone 5 or iPad. Alternatively, you can swipe down to zoom out into a 4-window view so you can jump straight to the city you want. Swiping up with two fingers reveals additional weather information about that city. A graph at the top shows you the temperate at 11AM and 11PM for each day. And a table at the bottom tells you the average temperatures for the week. Tapping on each cell shows you the wind and temperature for different hours in the day as well.
Sun now has a much cleaner and neater interface and comes packaged with even more colors that you can set as themes. Tapping the Hamburger button at the top right slides out a basement from the right, where you can configure the cities and additional preferences for the app. You can add your favorite 3 additional cities to the list there and change the colors if you want. The new Sun is so brilliant done, it leaves us awestruck. When you change colors for the app, it automatically updates the Homescreen icon based off the colors. Updating the colors takes a while, but that's expected considering it's a web app after all. The updated app also now supports installation of updates when you launch it. It displays a small notification in the status bar when it finishes installing an update, when you change the colors or add a new city. There are also lovely sounds in the app now, so it adds to the whole experience the app offers.
The app is still free to use and you can add it to your Homescreen by visiting this URL here.