if (screen && screen.width < 767) {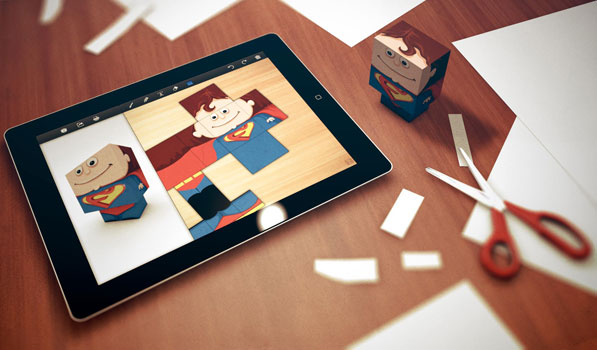 Foldify Makes Coloring Paper on the iPad a Lot of Fun
---
In writing about apps here on Beautiful Pixels, we peruse through dozens of apps & review requests that come in through email, Twitter or the contact form. Today, there is a tremendous amount of talent out there that keeps churning out stunning apps that keeping blowing us (and hopefully you guys) away. But then there's that one guy, that one single app you come across that makes you realize what a remarkable & fun device your iPhone or iPad are. Using these apps on the iOS devices make makes the whole experience a lot of fun and it makes you come back for more. And that's exactly what Foldify does on the iPad.
Foldify is a fun new app from the folks at Pixle, a small talented team from Warsaw, Poland. Remember the craft activity we were given as kids wherein you were asked to color and fold hard paper to create tiny 3D objects from it? Foldify brings that Paper Craft to the iPad. You begin by choosing a shape template from a readymade collection of various forms. You are then presented with two views, one that lays down the template flat on a table for you to color on and on the left is a live updating preview of how it'll look when folded into its 3D form. Using the pencil and brush tool, you can then begin coloring the object and let your imagination run free. The app lets you use 'stamps' like car tires, eyes, nose, mouth, hands on the object. Additional Stamp Packs are available for purchase within the app at 99 cents. The preview on the left keeps updating in real-time as you move your brush, so you know exactly how you're doing. Unlike most other apps that let you increase or decrease the brush size for drawing, Foldify keeps the size constant and instead cleverly lets you zoom in or out on the canvas—allowing you to draw both a thick line or a fine line with the same finger and precision.
[showcase slug="foldify-screenshots"]
Click to Enlarge
Once your art is complete, you can send the template as a PDF or directly print it using AirPrint if you have a compatible printer. You can also share your designs with others using Email, Facebook, Twitter or simply with the Foldify community itself. Using the "Online" tab at the bottom, you can browse the most liked creations shared by different users.
Foldify is a beautifully executed iPad app that fills you with delight when you use it. Creating your own designs on it is a lot of fun and trying to master that perfect stroke is very addictive. Available at $1.99 on the App Store, Foldify is one app we highly recommend you try on your iPad.