If you're looking for the best live flight tracking app for iPhone and iPad, look no further than Flighty.
Who knew flight tracking apps could be so delightfully good?
When you're set to travel by air, tracking your flight status is something you must do all the time. Without knowing the up-to-date status of your flight, you could be faced with unexpected delays, rescheduling, gate changes, all of which lead to high levels of frustration, stress and you may even have to go through the efforts of walking from one gate to another at the last minute, at times even change airport terminals. I don't know about you, but that's a lot of work right before my flight.
Most frequent flyers usually have an arsenal of apps in their pockets, ranging from the airline's official apps to live air traffic apps like Flightradar24. Unfortunately, even these aren't enough most of the times. In my experience, the airline's own app usually falls short, which makes sense — why would an airline voluntarily give you information about delays that would make it look bad?
So when the developers of Flighty emailed us a few weeks ago, I wasn't sure what to expect. "How good could this app really be?" I said. "It sure looks beautiful, but how helpful can it really be?" I was in for a delightful surprise.
Flighty is a stunning live flight tracker for iPhone and iPad. You can add details about your specific flights or your entire trip into the app, and Flighty will automatically keep you updated with the status and any changes to plans. Flighty offers a beautiful UI to add, manage and view flight status.
Flighty App Screenshots
Dark Mode on iOS 13
In a recent update that gets the app ready for iOS 13, Flighty has added a stunning Dark Mode on iPhone and iPad.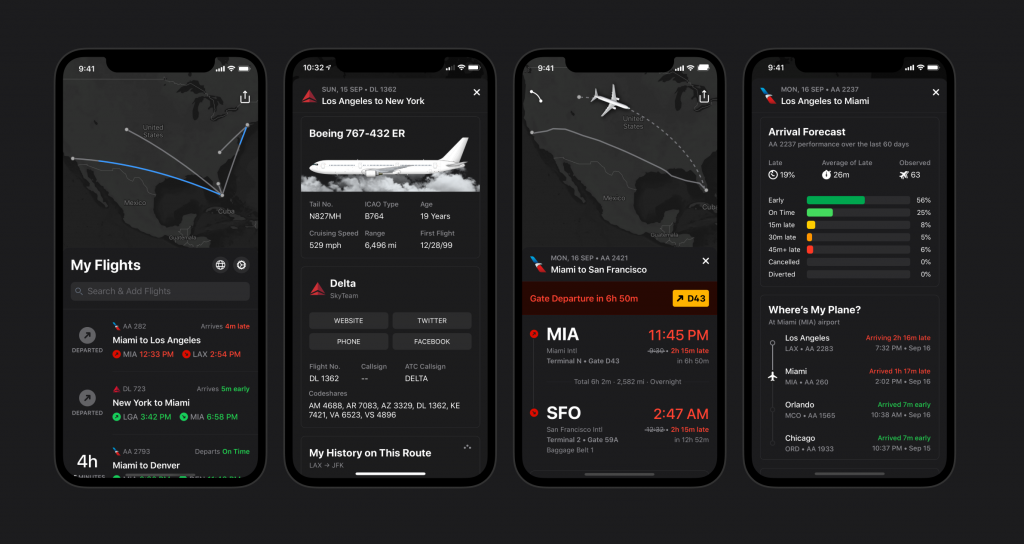 Unique Features as a Flight Tracking App
Flighty has some really cool unique features to help you stay updated with latest on your flights. It starts tracking your flight up to 25-hours before its departure and will alert you if there are any delays prior to your flight. If you're flying in the US, it even combines the FAA traffic management alerts to better predict delays.
Flighty's push notifications are by far the fastest I've experienced in this industry. For my recent trip to a vacation, Flighty alerted me of the changes before the airline's own app 100% of the time. This was a delightful experience, especially considering I was on foreign land and being alerted of delays and gate changes were important.
Flight Status Notifications
Don't worry, Flighty won't inundate you with notifications if you don't need them. You can tweak the notifications settings to enable only the categories you're interested in. Here's what's available:
The Basics — Includes only the important alerts like gate changes, delays, and rescheduling,
Above & Beyond — Includes inbound aircraft status, aircraft changes, etc.
Flight Path — Be alerted of the flight path when the airline files it.
Arrival Information — Get alerted about landing, gate arrival, baggage claim, belt number, etc.
In most cases, you'd only ever need the 1st and 4th category to be enabled, but having all four enabled is a good way tickle your curiosity.
By far my favorite thing in Flighty is how much information is managed to pull about your flight, and how beautifully all this information is laid out for you. Flighty's designers have done a remarkable job to ensure that you get all the information you want to see, but in a way that it doesn't overwhelm you at all.
Flighty syncs with your calendar data, TripIt sync, and you can also forward your airline's email to add flights to the app.
The Pricing
Flighty comes with a Free plan that lets you track unlimited flights with no ads. Some features are reserved for the Pro plan, such a push notifications, where's my plane, delay forecast, etc. The Pro plan is priced at $8.99 per month, or $49.99 per year. If you don't travel frequently, you can upgrade to the Pro plan and use it just for a month. Of course, there's a 14-day trial available to try all the features for the first time.
Flighty is a gorgeous app that just works. It helps you track your flights and notifies you about things that are important. If you fly a lot and value your time, getting Flighty on your iPhone and iPad is a nobrainer.
Get Flighty for Free from the App Store →