if (screen && screen.width < 767) {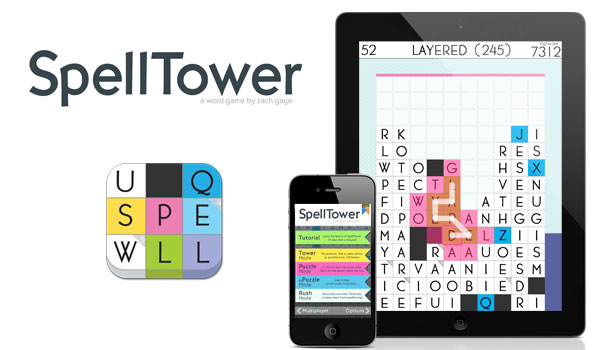 SpellTower is a Beautifully Addictive Word Game
---
The App Store has no shortage of games in any category. There are probably more word games than there are weather apps right now. Zach Gage has made quite a name for himself with Bit Pilot and Unify. He released his latest game, SpellTower a while ago and it will blow your mind.
SpellTower outclasses almost every other word game in all aspects. It has some drool-worthy visuals, great sounds and addictive gameplay. It has a few elements from Tetris as well like falling bricks or tiles in this case. After launching the game you are greeted with a very nice tutorial that explains the basic gameplay to you. I usually skip tutorials in word games because they tend to be boring but this one is plain awesome. You swipe across tiles to create words. Words made have to be at least 3 letters long. These tiles pop out and there are certain tiles that eliminate complete rows or have a value written on the top indicating minimum word length that add to the overall gameplay. The game has 5 main modes. Tower mode lets you play with no time limit on a screen with 100 letters on the iPhone, 140 on the iPad and 150 on the Mac respectively. Puzzle mode and ExPuzzle (Expert Puzzle) mode are my favourites. One row is added at the bottom for every word you make and if any tower (column) touches the top, your game is over. Rush mode adds rows over time and makes you think fast. The latest update to the game also added bluetooth local multiplayer on iOS. Zach took the game to another level with local multiplayer Debate Mode. There is a gorgeous night theme as well that can be enabled from the game options. You get a final score card along with the best word from this game and your all time best when the game ends. You can tweet your best word from here. The Mac version of the game has Game Center support for Mountain Lion. The game website is really great as well. It has brilliant colours and subtle animations. The night theme animation at the bottom is particularly stunning.
SpellTower proves how someone can take a simple concept and execute it elegantly. I can't even imagine playing word games like EA's Scrabble and Zynga's Words With Friends after playing SpellTower. I'm surprised that the volume buttons in the options and the debate mode handicap buttons are native iOS while everything else is carefully styled and crafted. They look really out of place. I also hope Zach does a fullscreen mode on the Mac that makes use of the additional screen real estate. SpellTower is available on the Mac App Store for $3.99 and iOS App Store for $1.99.