if (screen && screen.width < 767) {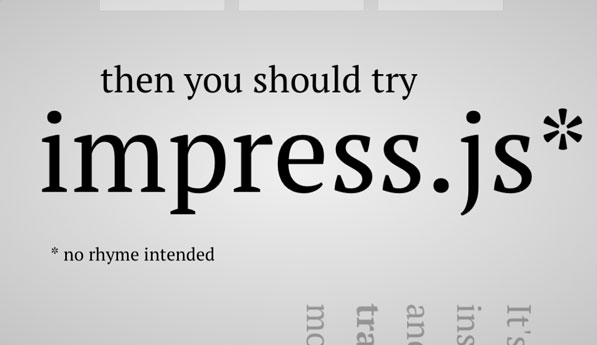 Create Visually Stunning Presentations right in your Browser
---
Here's another example of what modern web technologies are capable of and how little blocks of code can result in something so impressive. Impress.js is a presentation framework built by Bartek Szopka that utilizes the the power of CSS3 transforms and transitions available in modern browsers today and adds that spectacular touch to presentations.
To view what impress.js is capable of, he's put up a demo that you can try here. Or just view the video embedded at the end of the post. The source is available on Github to be forked, so you can grab a copy and play around with it.
It's quite interesting how visually immersive the demo is, compared to the boring slide-based presentations we're all used to. If you create something with it, don't forget to let us know.
[sublimevideo class="sublime" poster="http://ixyr.wpengine.com/wp-content/uploads/2012/01/impressjs.jpg" src1="http://ixyr.wpengine.com/wp-content/uploads/2012/01/impressjs.mp4″ width="597″ height="336″ data_uid="impressjs" data_name="Impress.js Presentation Framework"]