if (screen && screen.width < 767) {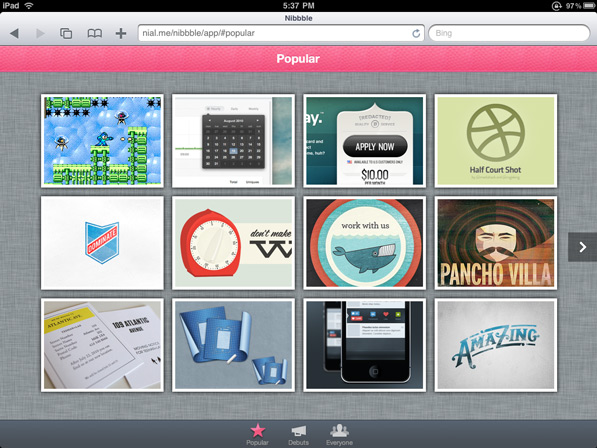 Nibbble — This is how I browse dribbble on my iPad
---
I just saw it, but I already know this is it. Ever since the dribbble api opened up, we've heard of so many clients, it's almost the new twitter client. Well here's nibbble, an iPad web application based around the dribbble api, created by Nial Giacomelli (@nialgiacomelli). Nial is the same designer who created the "Showtime" web app for the iPhone some time back, so he's obviously upgraded on this one.
nibbble is so fluid, you'd be wondering why you even need a dedicated native app on your iPad. Beautiful grids of 'shots', tap to see the author, and tap to show the shot in a lightbox. It cuts out the comments and other dribbbely features, and is purely a way of browsing images. Best of all, it's free.
UPDATE: I'm told it also works on the iPhone — one image at a time.
[thanks @nawong for sharing it with us]