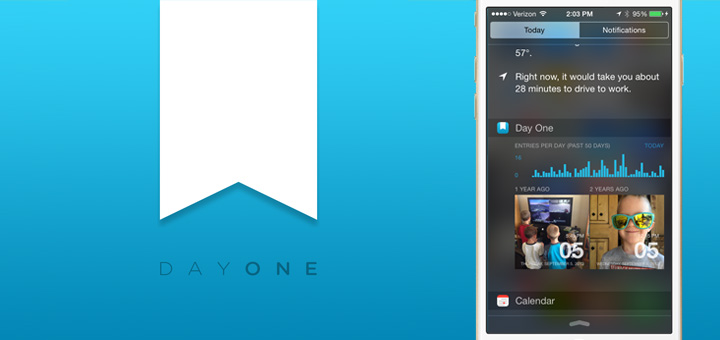 Day One is by far my favorite journaling app. It offers beautifully designed & feature-rich apps for iPhone, iPad & Mac and even allows publishing select updates to the web. The app has won critical acclaim, even from Apple, winning the prestigious Apple Design Award for its Mac app at WWDC '14. Today, the developers have released a stellar update for iOS 8 that brings some amazing new features to the app.
First up, Day One now has a Today widget for your Notification Center. This widget shows you your entries per day for the last 50 days, daily word & photo counts as well as flashbacks of past entries made on the same date. I used to love this feature in Everpix and it's great to see it in here. The app also has a Share extension now, giving you the ability to add content directly to Day One from any app or your Photos app. I often end up taking multiple photos anywhere and this way, I can pick the best one and quickly add it to Day One as an entry. If you've got an iPhone with Touch ID, Day One now supports Touch ID integration, allowing you to unlock it with your fingerprint instead of typing in a code. It is also now optimized for the larger displays of the iPhone 6 and the iPhone 6 Plus.
Day One is available for $4.99 on the App Store and is a free update to existing users.