When it comes to Twitter, third-party developers have been doing a far better job of building beautiful and feature-rich apps than what the company has managed. For as long as Twitter has had an API, we've seen some outstanding Twitter apps available for iOS, macOS, and even Android. A majority of my early days on Twitter were spent using Twitterrific — built by the kind folks at The Iconfactory. Twitterrific was a phenomenal app back then, giving you a completely different and much better experience when using Twitter.
Earlier this year, The Iconfactory announced Project Phoenix — A Kickstarter campaign to revive Twitterrific for Mac and bring it up to speed with a modern design along with the current features offered by the platform. With a goal to raise $75,00 in 30 days, the team actually managed to raise $108,346 from 2,852 backers, making the campaign a huge success. Over the last few months, the designers and developers have been crafting and molding the app for release and today, Twitterrific 5 for Mac is available on the Mac App Store.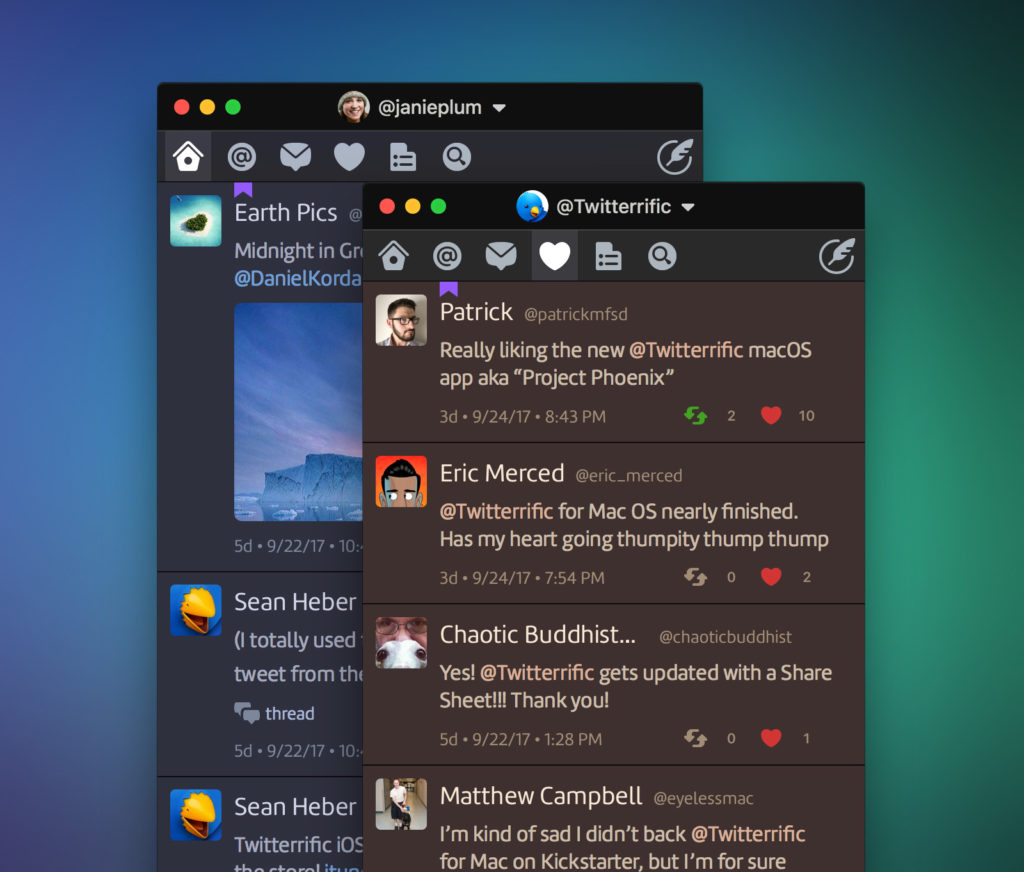 Twitterrific 5 for Mac features the same finesse that we've seen in Twitterrific for iOS, but at the same time, also leverages all the features offered by macOS. It looks absolutely stunning on Retina Displays and includes support for Push Notifications in the Notification Center, built-in sharing, fullscreen mode, etc. It sports a unified timeline, and unlike the crap that the official app throws in your face, you'll never see likes, follows or promoted tweets from random users. If you're a Twitter power user, you can open multiple timelines in separate windows at the same time, either from the same account or multiple accounts. This way, you can keep track of multiple things at the same time on Twitter. Your timeline position is synced across devices using iCloud, even to your iOS devices.
Appearance Customization
Twitterrific 5 for Mac lets you customize its appearance from its Preferences. You can choose between a Light and Dark theme and further customize these by changing the display font (System Font, Amelia, Avenir, Calluna, Helvetica Neue, Museo Slab, Proxima Nova, Signika, Zosimo, Menlo, and two special fonts — Comic Sans and Papyrus), text size and media thumbnails' options.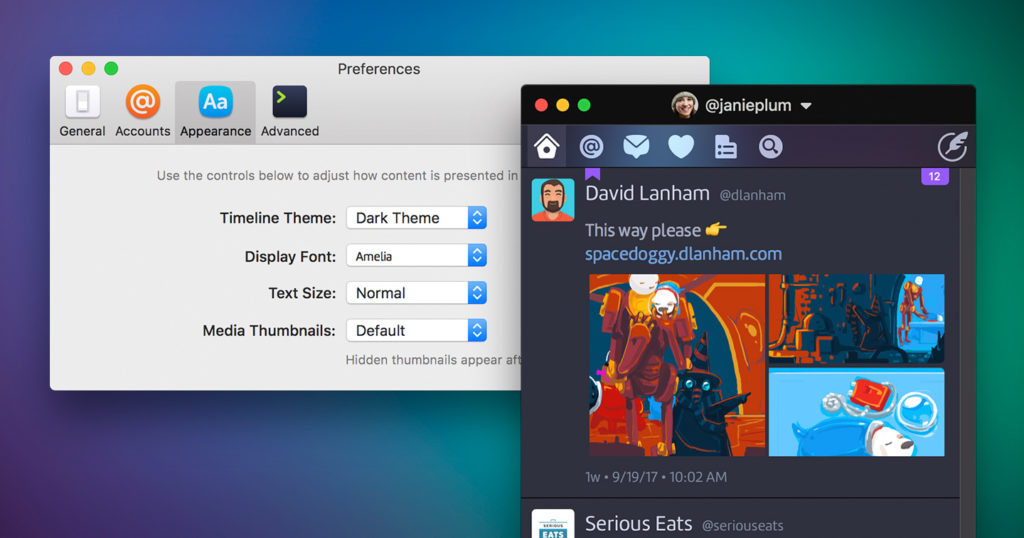 Pricing
Twitterrific 5 for Mac is priced at $19.99 and is available on the Mac App Store.
If you're already settled into Tweetbot for Mac, Twitterrific 5 for Mac probably won't pull you away just yet. It still has a few important features missing here and there and also locks the polish that Tweetbot currently exhibits. There are also a few bugs, which should be fixed in an upcoming release. In all fairness, the team has managed to an incredible job with this release considering it's a ground-up rewrite of the app.
Of course, Twitterrific is still much better than Twitter's own official app for Mac, which has been left neglected for several months now. So if you're still using that junk, you should definitely switch right now!
Full Feature List
• Timeline syncing of reading position across all platforms via iCloud
• System-wide alerts for mentions & direct messages via Notification Center
• Fully accessible via VoiceOver
• Support for Retweet (RT) & Quoted tweets
• Quick access to Emoji when composing new tweets
• Autocompletion of usernames & hashtags while editing tweets
• View Twitter saved searches and lists
• Check out global and local trending topics
• Browse conversation threads between users
• Support for tweet storms & chained tweet threads
• Quickly Delete & Edit your own tweets
• Translate tweets to your native language
• Helpful color-coding of tweet types
• In-app media viewing for images, animated GIFs, Instagram & more
• Share a tweet with actions for email, Messages, Safari Reading List & more
• Muffles & mutes synced from Twitterrific for iOS via iCloud
• Robust in-app media viewer with detachable popovers
• Customize the appearance of media in the timeline or hide it completely
• View user profiles including past tweets, likes & mentions
• Follow and unfollow other users directly from their user profile
• Block and report spammers with a single click
• Theme control (light or dark)
• Font size & typeface control
• Robust keyboard control