if (screen && screen.width < 767) {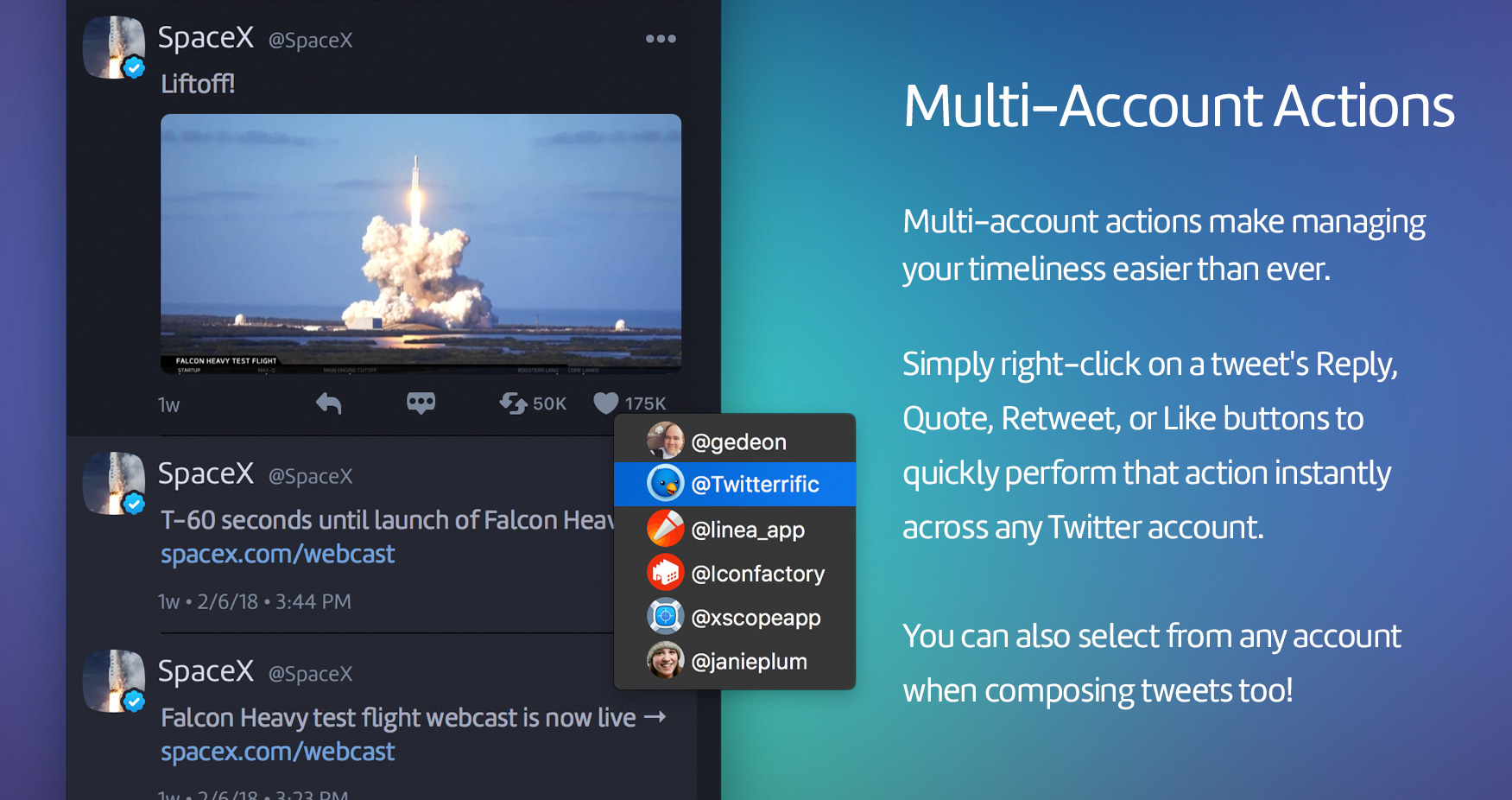 Twitterrific for Mac Gains Support for Multi-Account Actions, Profile Badges & More
---
Twitterrific for Mac — the adorable Twitter app by The Iconfactory has today gained some much-needed features such as support for multi-account actions, allowing you to post tweets, reply, retweet and like tweets using any account that you're signed into.
The Iconfactory has today released a major update to Twitterrific for Mac — the adorable Twitter app that was reborn as a Kickstarter project titled Project Phoenix. The developers have been adding some great new features to the app since its release last year and today's update comes right in time for users who're looking for alternatives, after Twitter announced that the official Twitter app for Mac has now been discontinued. Right after Twitter's announcement, Twitterrific for Mac was put on sale for just $7.99 on the Mac App Store.
Today's release, which is version 5.2.4 of the app, introduces some much-needed multi-account actions. Twitterrific has had support for multiple accounts already, but there was no way to switch between accounts while performing an action. Suppose you want to retweet something on your timeline, but from a different account than the one you're already signed into. Previously, you had to switch to that account first, find the tweet you want to retweet and then then retweet it. Now, you can just right-click on any of the actions such as reply, like, retweet, quote, etc. and choose which account you want to perform the account from. You can even choose accounts in the middle of composing a new tweet, without having to completely change to a different account. You can see an example of this in the screenshot posted above.
The other major change is the introduction of profile badges. Twitterrific for Mac now supports badges for verified accounts as well as private accounts. These badges show up on the user's avatar and can be optionally turned off from the app's preferences. Additionally, user profiles now include lists of people followed as well as followers.
Other improvements included in this release include the ability to turn off streaming, i.e. enable manual refreshing of the timeline, addition of the 'Georgia' font, design tweaks to the user profiles, along with a fix for URLs being copied incorrectly. I'm probably the only one asking for this, but I do wish there was a setting to adjust the line-height of the fonts. None of the existing options look good on my non-Retina display.
This is a Free Update to all existing users and you can grab Twitterrific for Mac for just $7.99 on the Mac App Store.